VOLVO FRANCE select Sun Koolkare QTECH IV for new BEV vehicles (Battery Electric Vehicle)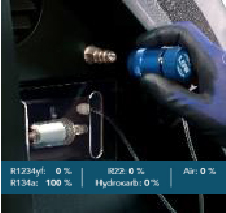 Volvo France Tools Equipment department selected the Sun Koolkare QTECH IV for the recommended A/C refrigerant management of their BEV vehicles with an HFO 1234 yf POE oil A/C system.
This A/C station fulfills all mandatory demands and recommendations. Volvo's decision based on distinctive points of strength as the accuracy efficiency, and the technological standards. Highly appreciated are the efficiency of the integrated and patented Hybrid feature the solution of the Gas Analyser and the userfriendly software look.
It's also certified ECK FLAG Ecotechnics brand" and Blizzard QTECH IV Sun brand", equipped with the Gas Analyser, have identical technical performance and meet both requirements and recommendation for Volvo.