Database update for completely automatic workflow
Database update for completely automatic workflow
The Database update 2020 is available.
Only an updated database enables completely automatic workflow of the A/C station and avoids time-wasting research for refrigerant quantities. The new database is updated with most recent new models:
Total numbers of models: 786 (23.704 CAR, 922 AGRI, 160 TRUCK)
064 models for R134a, 715 models for HFO
95 different car manufacturers
9% new models from 21 manufacturers
For detailed information flyer, please click on the download button.
Dinner for year's end holidays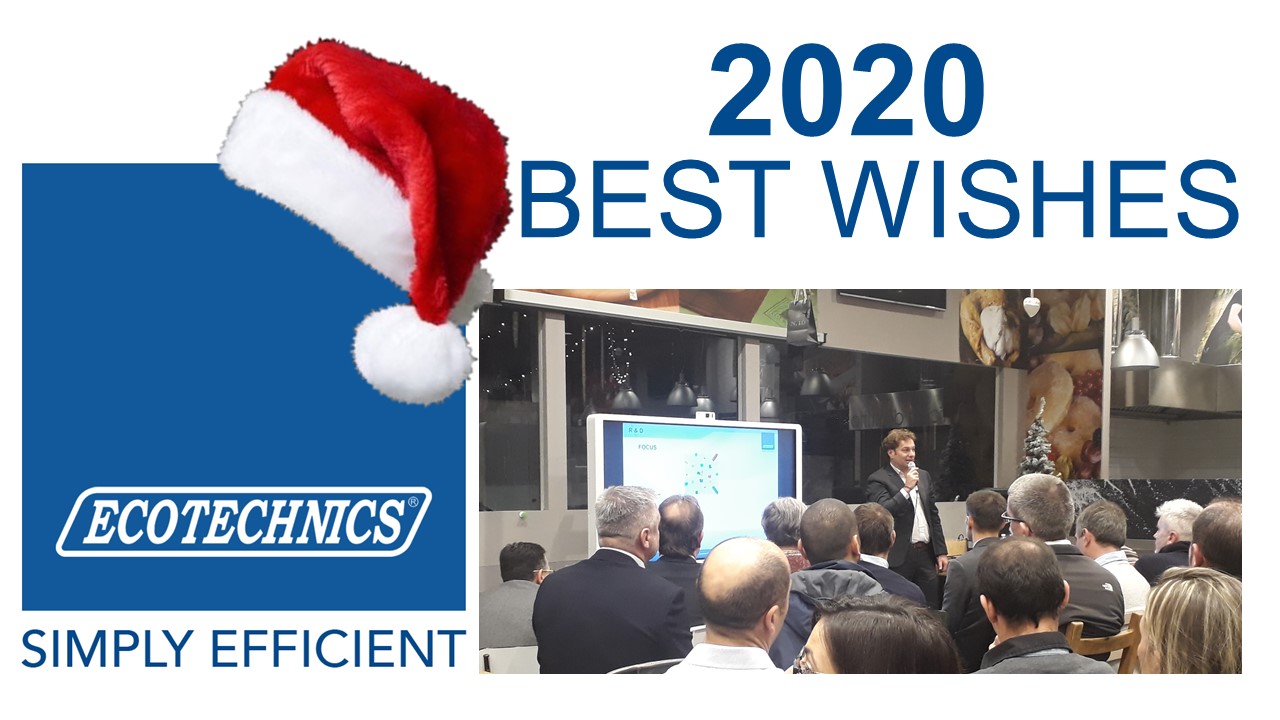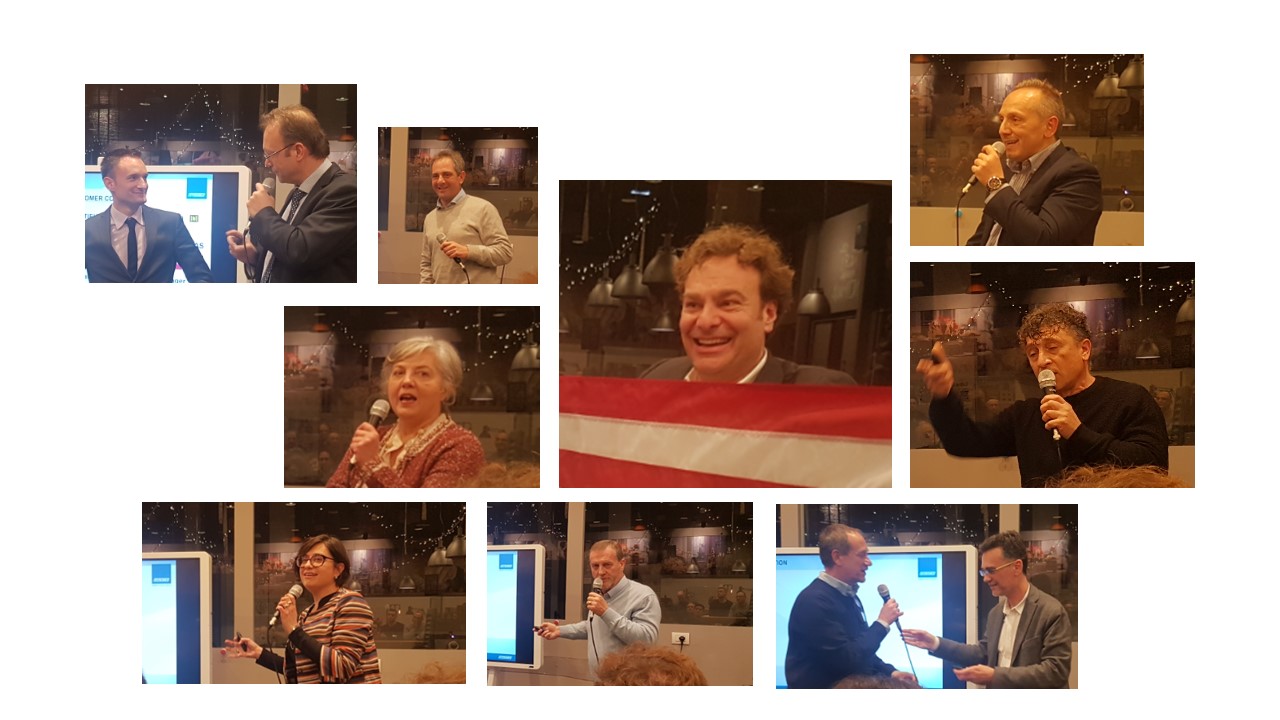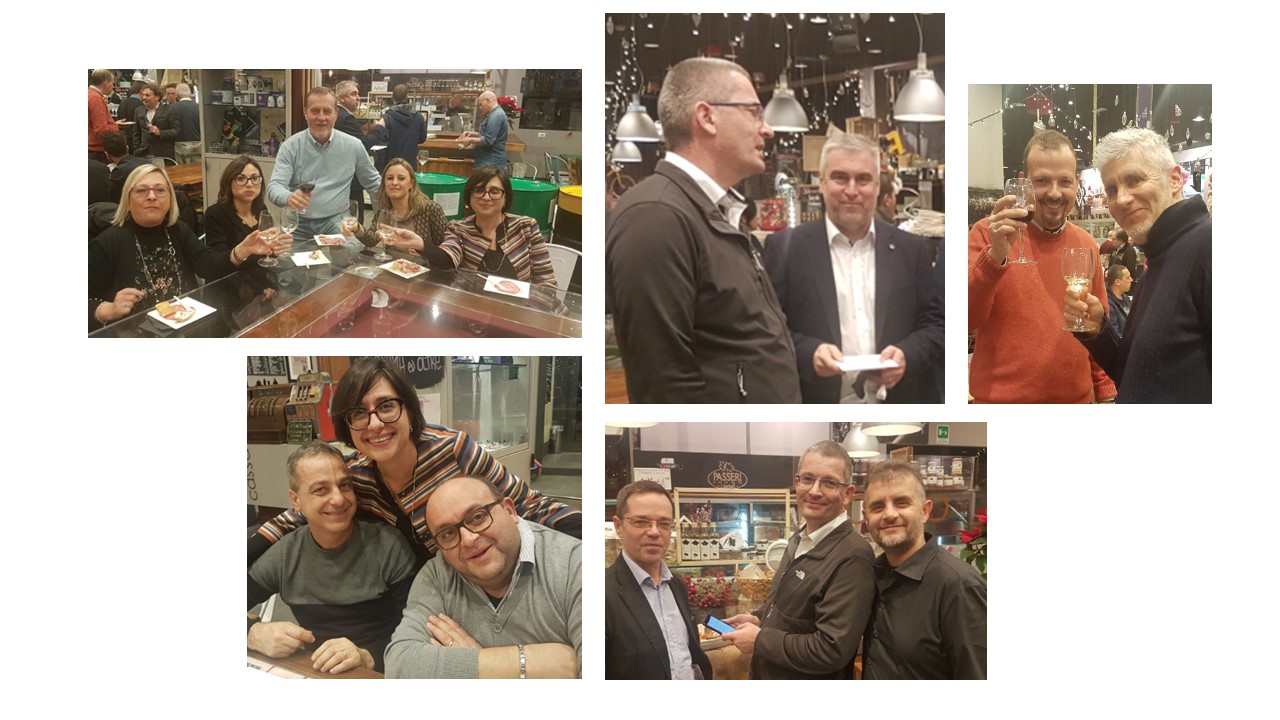 On the occasion of the year-end dinner, which was attended by the entire staff of Snap-on Climate Solutions, the various company departments presented a brief summary of their results.
Each manager thus had the opportunity to share with all colleagues the priorities of company programs and the key points of particular success.
Best wishes for the new year from the Snap-on Climate solutions team.
Mecânica, Lissabon 2019 November 22nd – 24th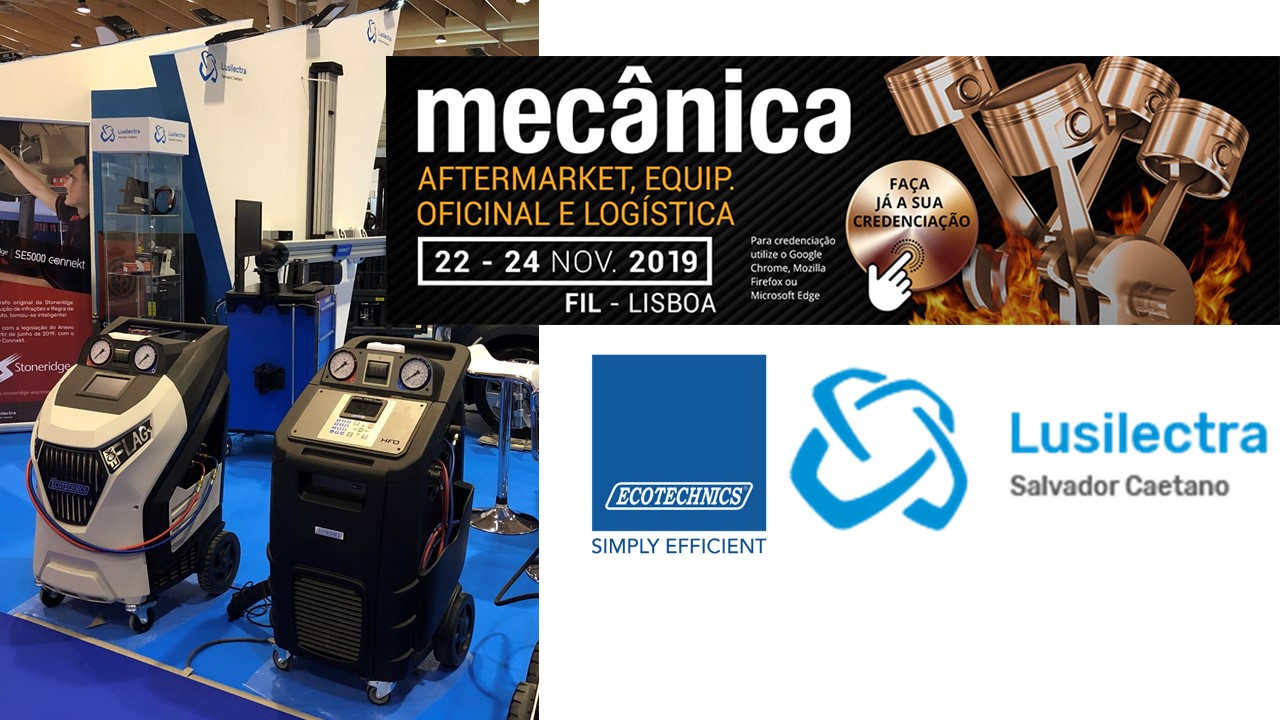 Show of garage equipment, parts, mechanics, components and accessories for light and heavy vehicles.
EXPOSALÃO promotes from 22 to 24 November 2019 the 9th edition of MECÂNICA – Professional trade fair for officinal equipment, parts, mechanics, lubricants, components and accessories for light and heavy vehicles at FIL – Lisbon.
We're pleased to inform about the successful participation of Ecotechnics brand with our Partner Lusilectra. The impactful visibility of the Lusilectra booth attracted actively interest. In the focus of attention has been the exposition of our high-performance A/C Stations ECK FLAG and ECK 3900 Premium.
A special thanks to our Partner Lusilectra.
Fair and Open House, Innsbruck 2019 November 22nd and 23rd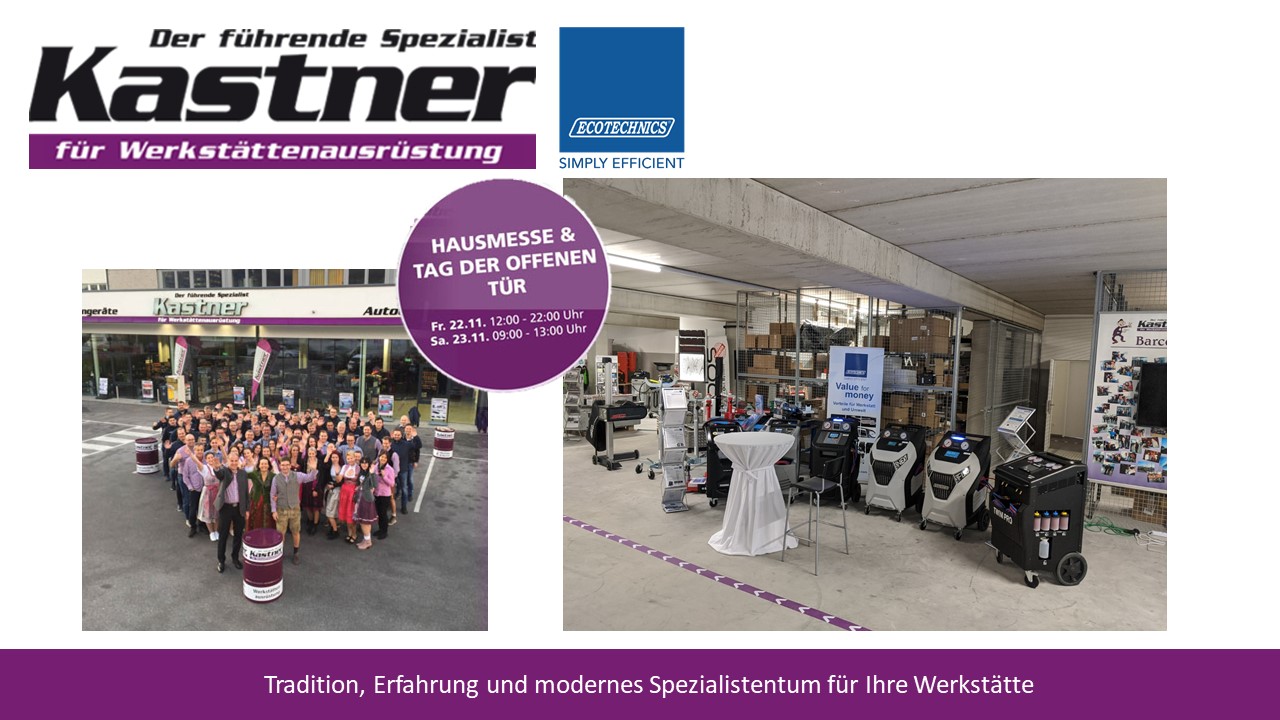 The event of the year.
Autobedarf Kastner cordially invites you to the event of the year. A visit gives a look behind the scenes.
Over 40 suppliers present themselves in the new headquarters buildihg and present their new products.
All employees, with whom the customers have previously only met by phone, can be met in person.
The brand Ecotechnics is also actively participating to inform about the current range of air conditioning service devices and to give best professional advice to service, maintain and repair A/C automotive systems.
The Ecotechnics team wishes you every success!
ECK FLAG and ECK NEXT – protagonists in Denmark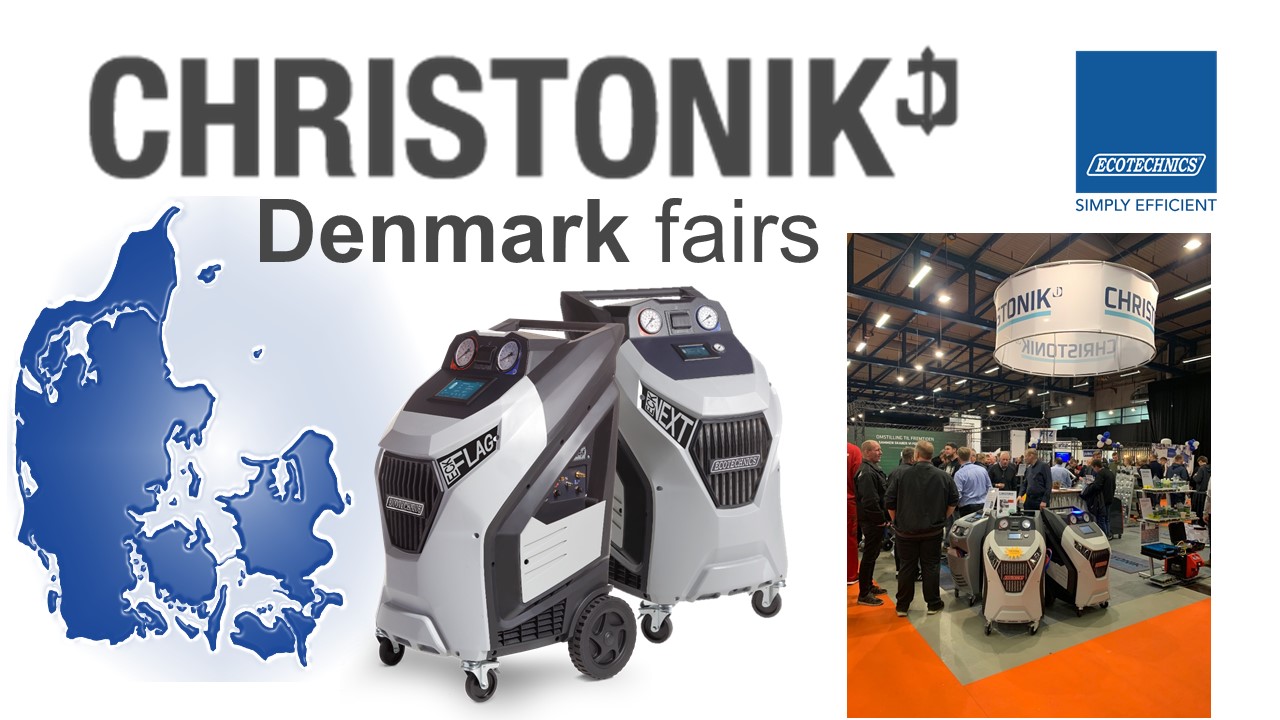 Our Danish partner Christonik has participated in two important trade shows in Denmark with the protagonists ECK FLAG and ECK NEXT.
The eighth edition of "AU2Parts" was held from 23 to 24 October and is, with over 140 exhibitors, among most important fair events in Denmark.
The FTZ Trade Fair 2019 took place from 6 to 7 November in the Odense Congress Centre, a reference to join the whole Danish car industry on over 11,000 m2 of exhibition.
Also in Denmark the lively interest in the A/C Stations ECK FLAG and ECK NEXT stations was again confirmed.
While ECK FLAG attracts with the technical characteristics and cutting-edge performances, the interest in ECK NEXT is given, especially, by its flexibility thanks to the important possibilities of Upgrade-aftermarket options (Hybrid function, connectivity, refrigerant analysis).
PROFI SERVICE TAGE, Frankfurt 2019 November 16th – 17th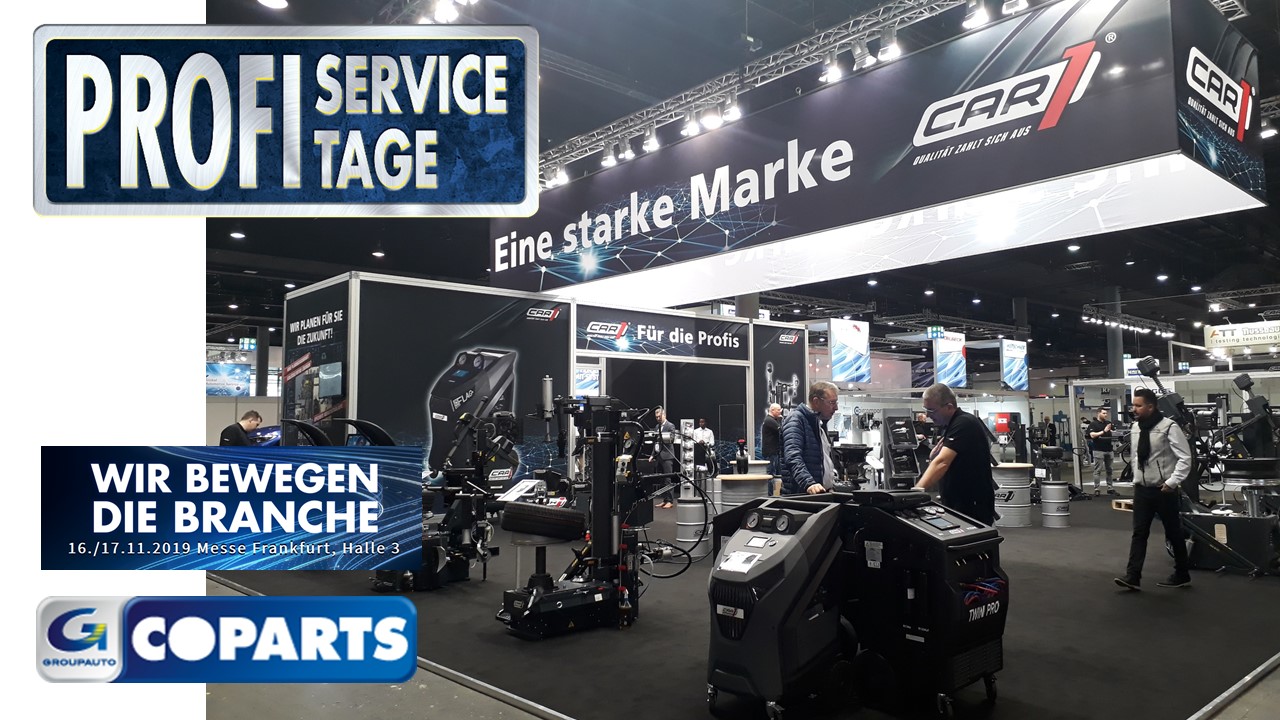 Under the motto "Technology, Trends, Transformation", the Coparts-Messe Profi Service Tage took place in Frankfurt from 16 to 17 November.
Hall 3 of the Frankfurt Trade Fair offered rich exhibition contents such as live presentations, expert discussions and hands-on technology.
Visitors were able to gather new information from current day-to-day business to topics of the future and to make sure to know what is needed for today's and tomorrow's business.
Hot topics that represent the trend are digitization processes, driver assistance, E-mobility, new diagnostic equipment … up to necessary training courses for professionals with specialist knowledge for the future.Also in Airconditioning these trends have been confirmed by the special interest service for the new refrigerant HFO1234yf, hybrid function and gas analysis. The focus was on the unique solutions of the ECK FLAG, the associated possibility of gas analysis and the ECK TWIN for professional service for both refrigerants.
A great success for all participants!
Training for our new Partner SBC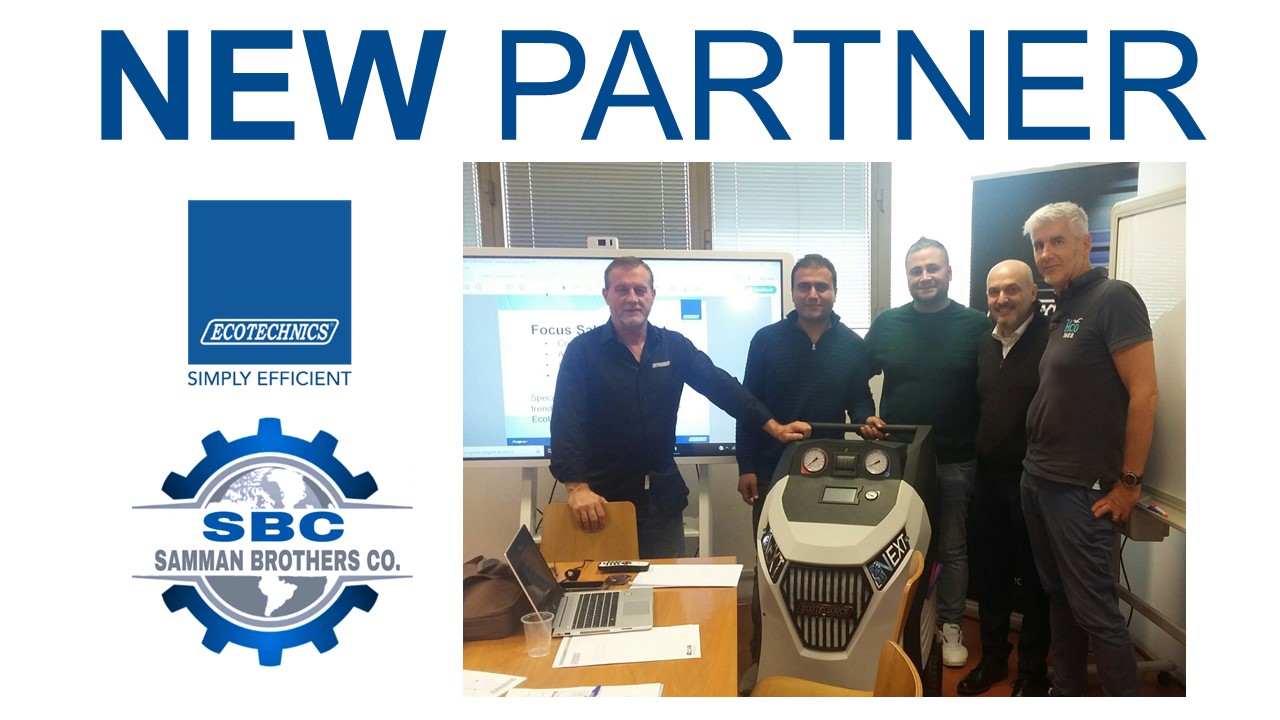 We're pleased to inform about our new Partner SBC.
It was a big pleasure to welcome personally Mr Saman and Mr. Zaid in Florence. An intense Training completed now all technical and commercial information to start efficiently this promising new Partnership.
Best wishes for success from the whole Ecotechnics Team!
AAGG Technika, Münster 2019 October 25th – 27th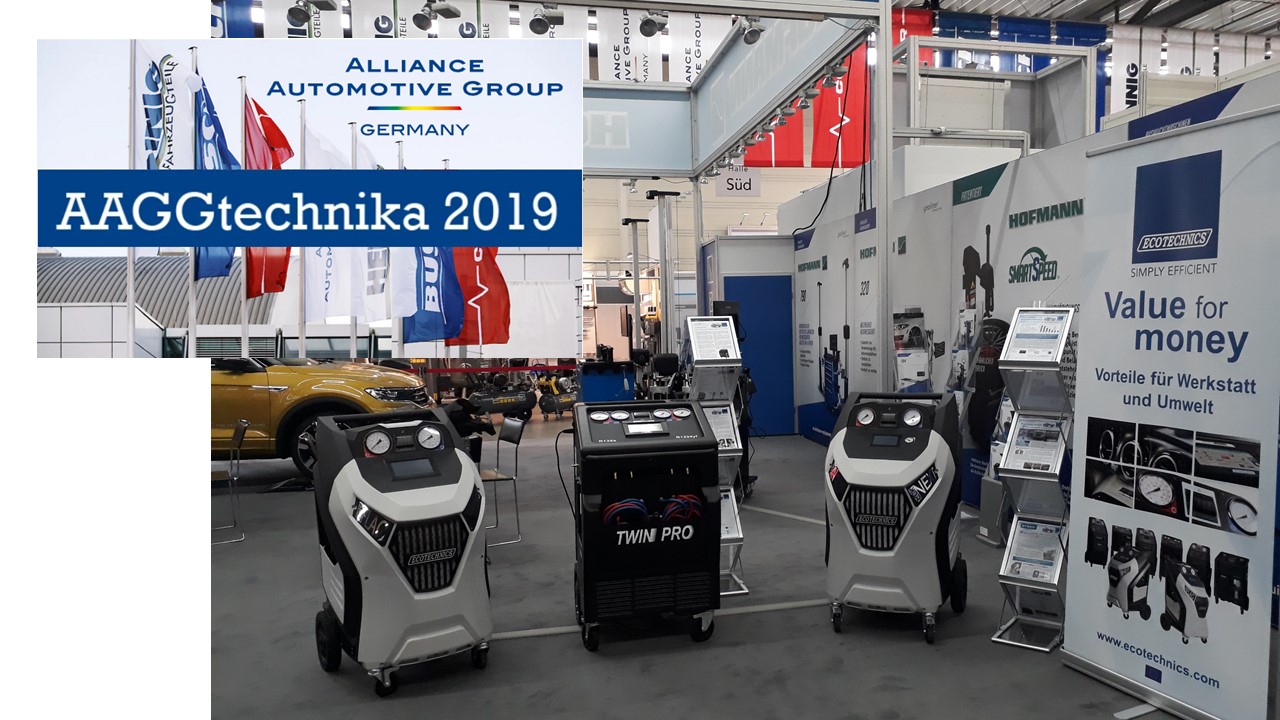 A successful AAGG Technika in Münster.
In the MCC Halle Münsterland, Coler, Busch and Hennig have presented "More than just Parts …". A rich program on current products, news and trends from the automotive industry, live shows and talks among professionals and much more.
The participation of the brand Ecotechnics focused on the presentation of the A/C Stations ECK FLAG, ECK TWIN and ECK NEXT. An enriched range of A/C Stations has actively attracted attention. Of special appeal were ECK Twin Pro as a solution for service with both refrigerants and the topics such as hybrid, connectivity and gas analysis with the interesting solutions of the new ECK Flag and ECK NEXT.
Technical full-immersion Training in Australia and Asia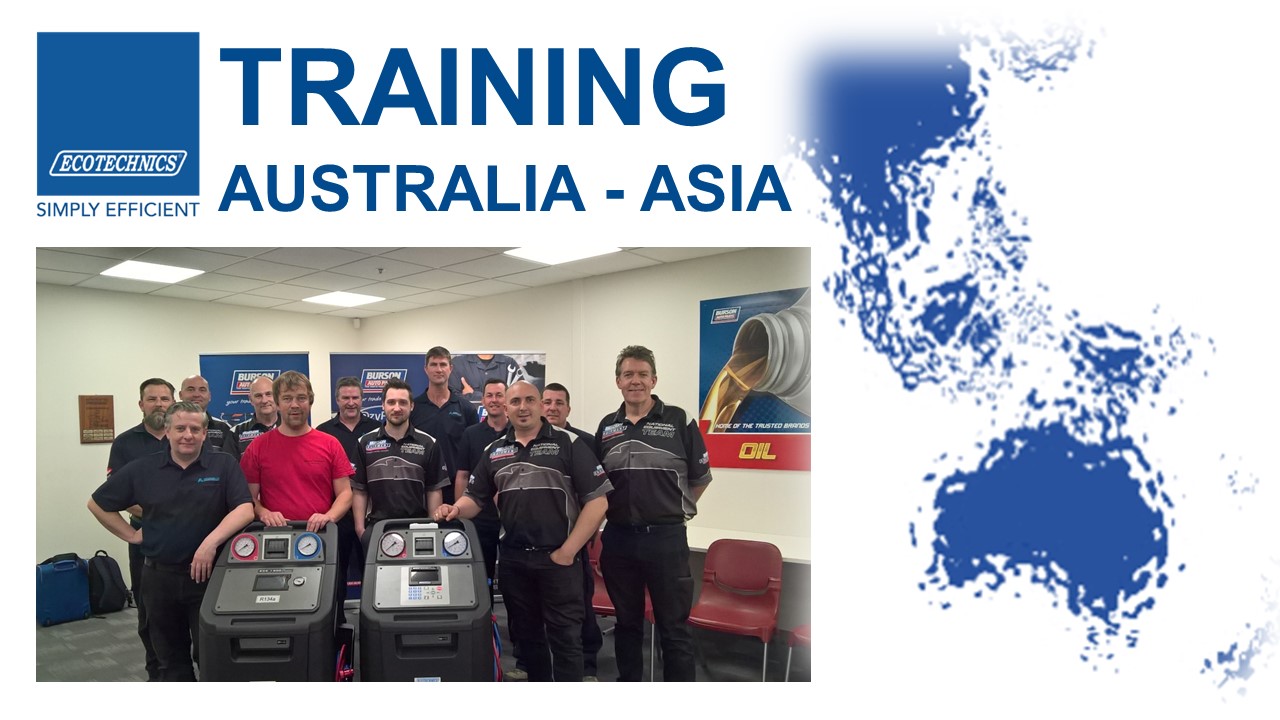 Full immersion Trainings have been held with Ecotechnics' Australian and Asian Partners.
In order to prepare right in time for high season start, the technical teams are now perfectly prepared with all updated information to sell and service our A/C Service Stations.
Our Responsible After Sales Service trained during this tour the teams of Australian Partners in Brisbane, Melbourne, Sidney and, in the Asian area, in Malaysia and Taiwan.
We wish our Partners best success for the starting summer season.
Ecotechnics on the fair EQUIP AUTO, Paris, 2019 October 15th – 19th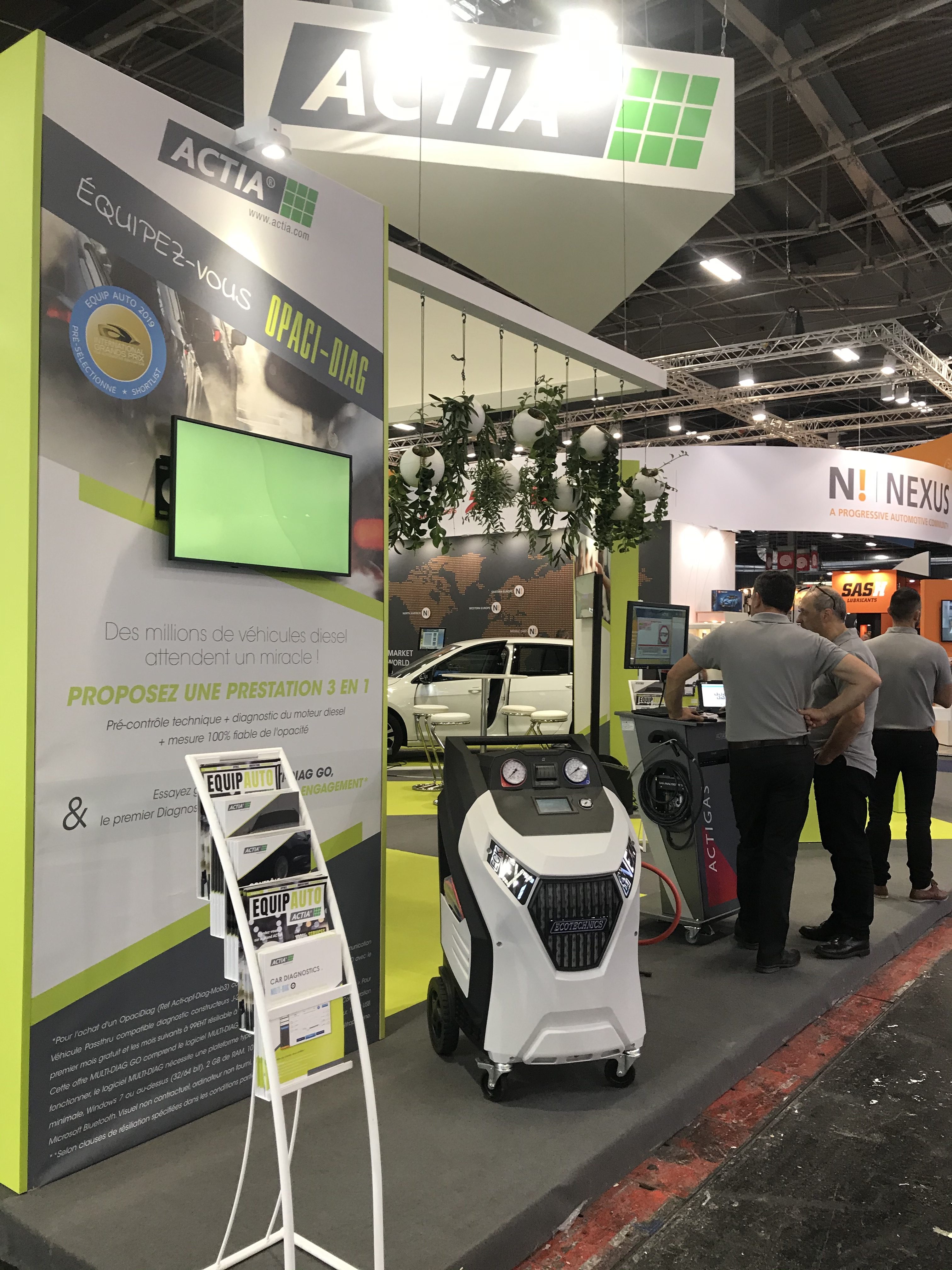 We're pleased to inform you that Ecotechnics will participate on most important fair for the French market. You'll find us, together with our Partner Actia, on the Stand 1 K 070.
We wait for you!
Technical training in France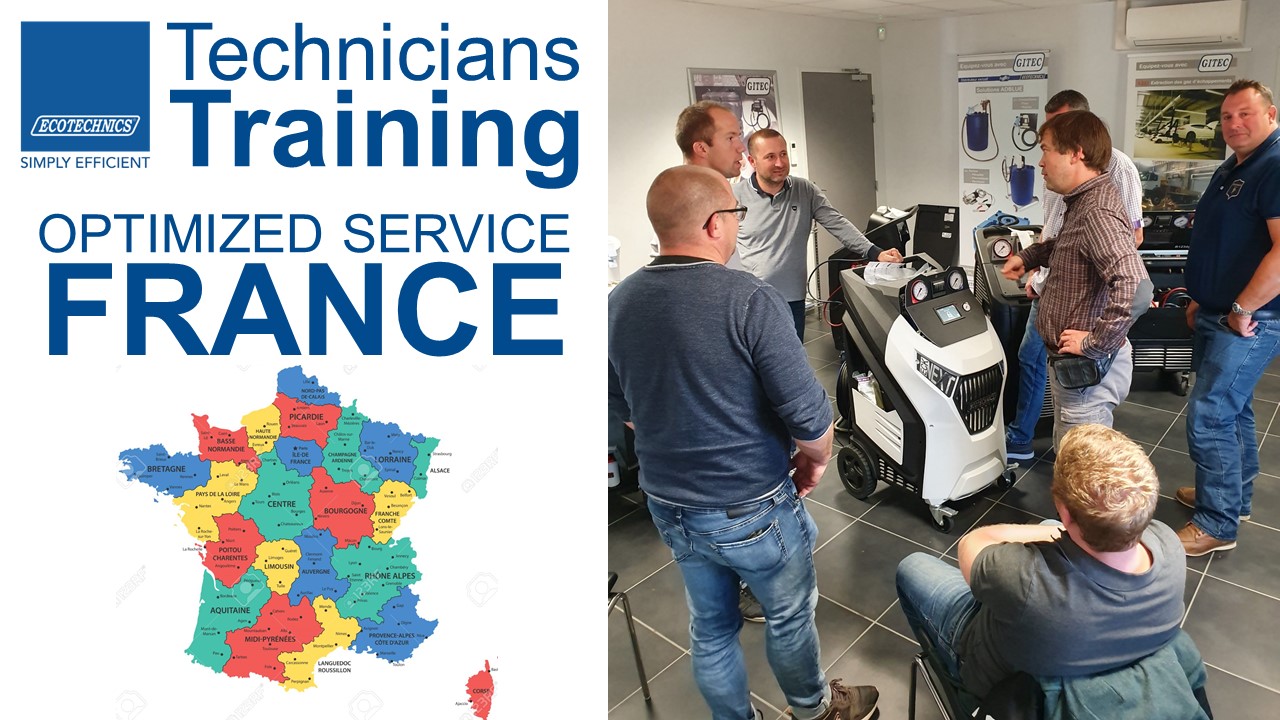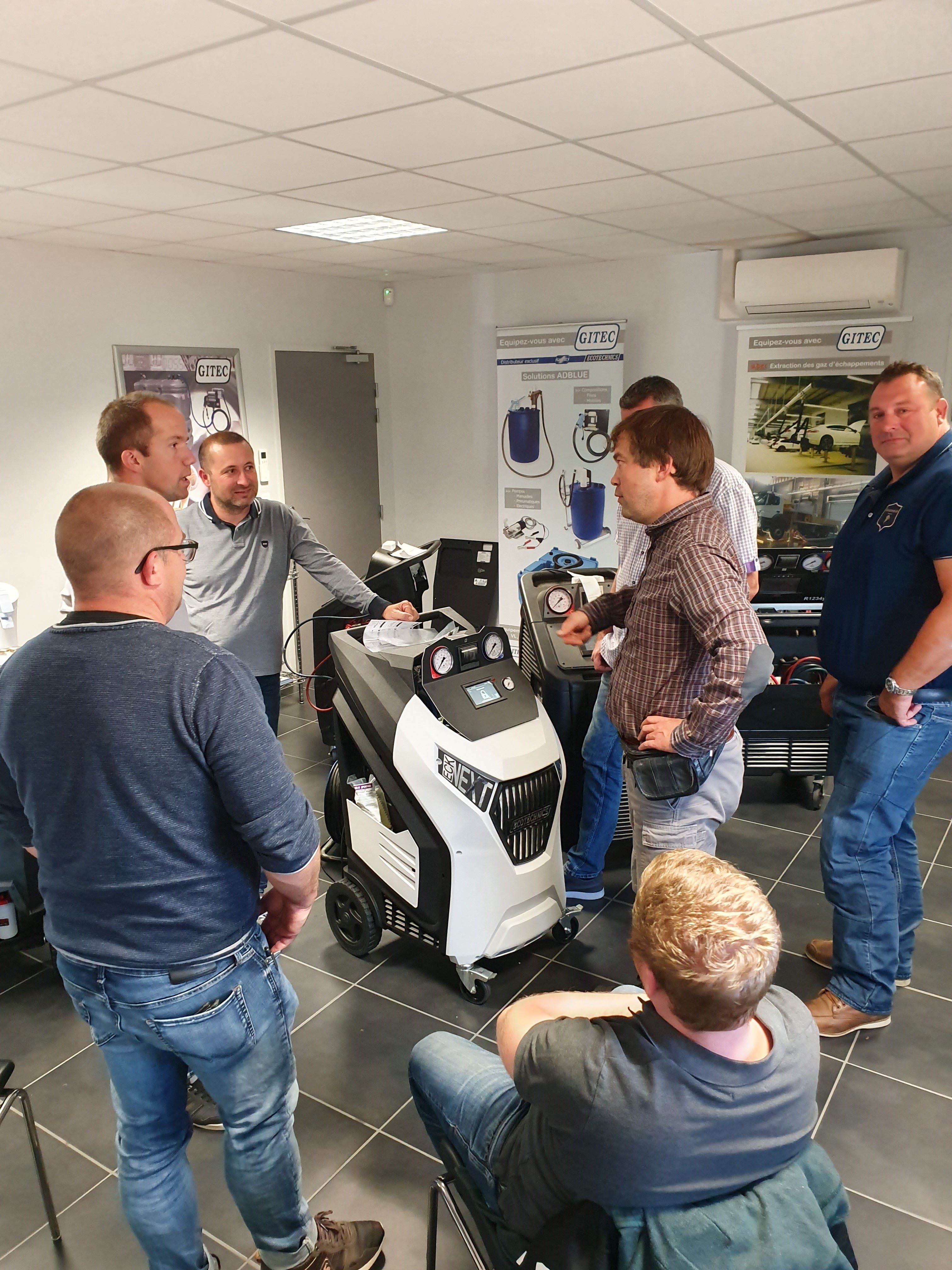 Competent advice, maintenance and repair are fundamental services for the efficient workshop. Ecotechnics constantly follows professional training in order to guarantee best services to its partners and their customers.
Ecotechnics has just completed a technical training session to a French network of technicians. This network is now up to date and able to cover the entire national territory of France.
We thank our Partner Gitec for the organization of the Training and the coordination of this competent French Network.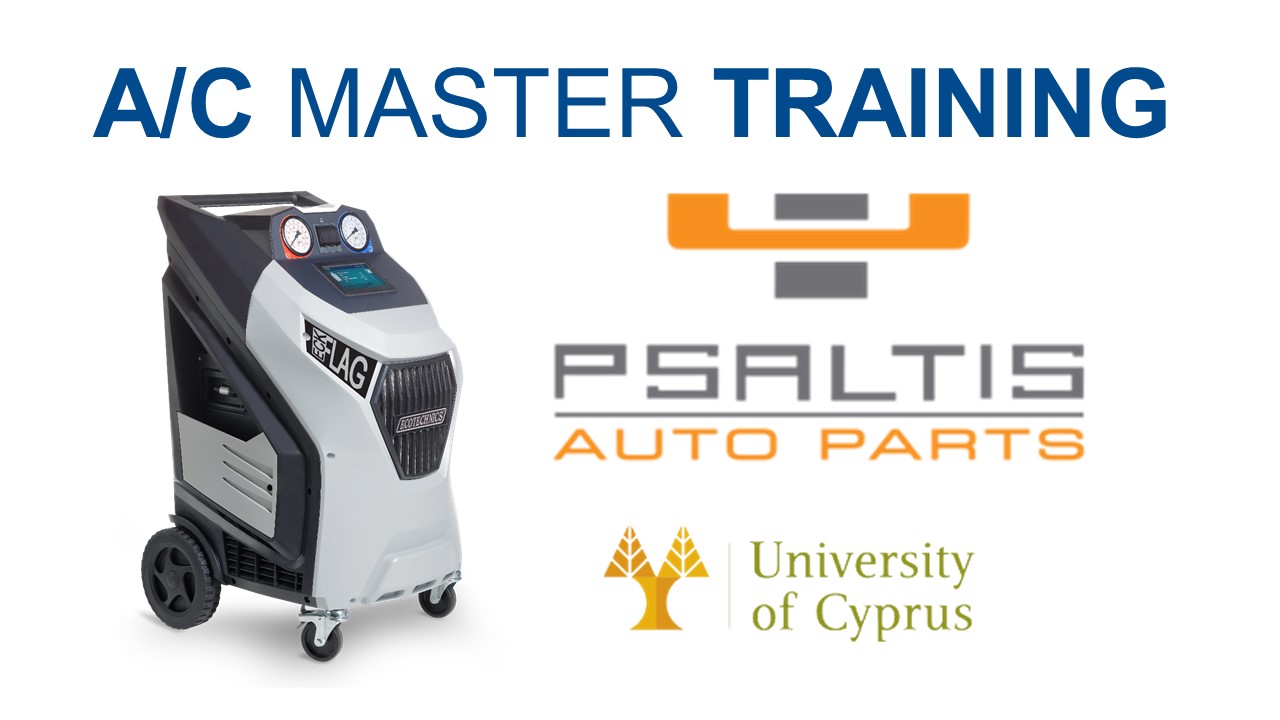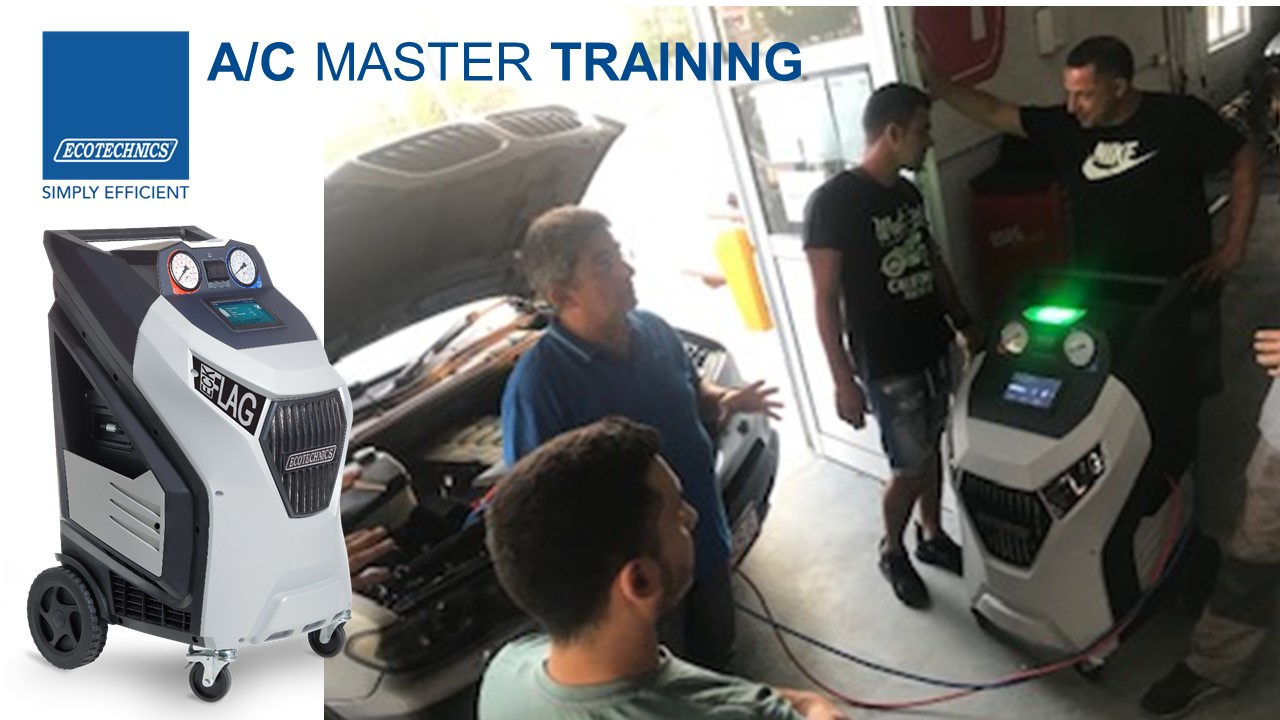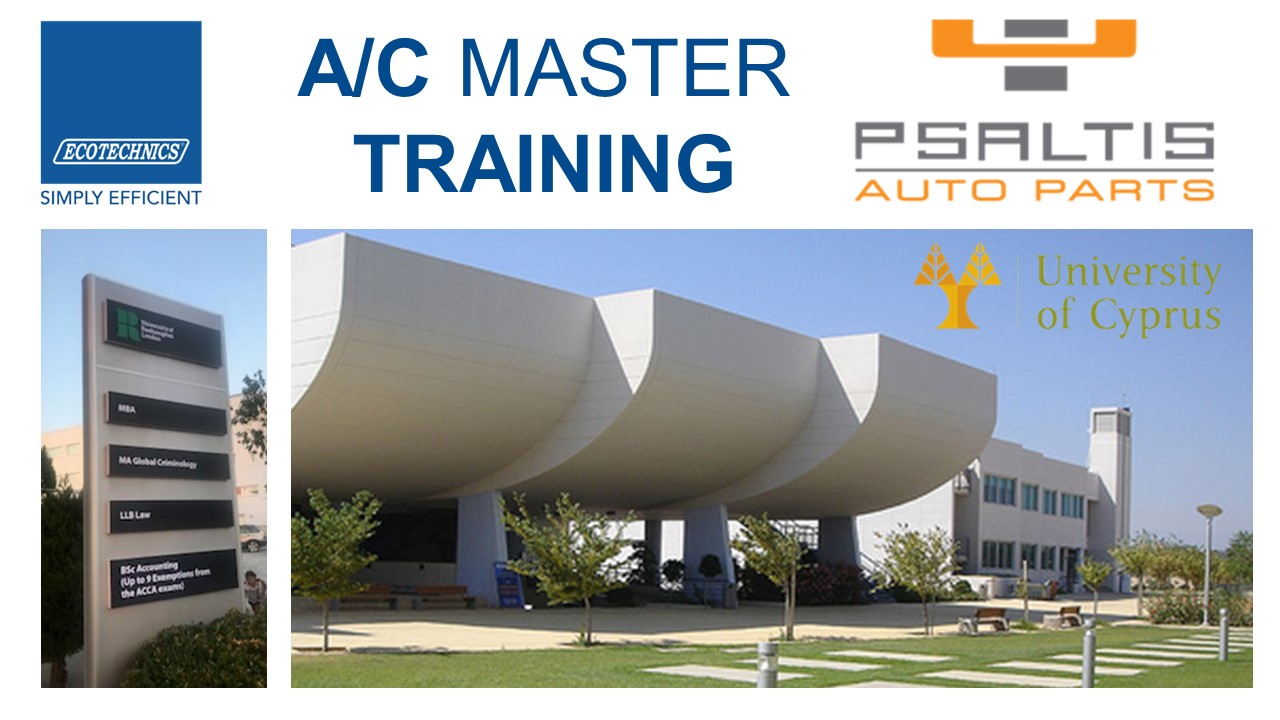 Our distributor Psaltis & Sons LTD has organized an A/C Master Training at the University of Cyprus. The educational program, sponsored by the Partners of Psaltis, too, involved 40 apprentices to whom the official authorization for the A/C Service in the workshop will be awarded.
We are proud that the A/C Station selected for the Training is an Ecotechnics ECK FLAG.
Psaltis is a pioneer in the automotive aftermarket and has established itself as the main player of reference for automotive spare parts and equipment in Cyprus. The company's history dates back to the late sixties when Andreas Psaltis opened the first store in Nicosia.
Psaltis Group firmly believes that the training of human resources is the key to success. Since 2008 Psaltis Group has implemented an integrated training program designed for its customers.
Special thanks to our Partner Psaltis.
GNFA's choice is Snap-on Climate Solutions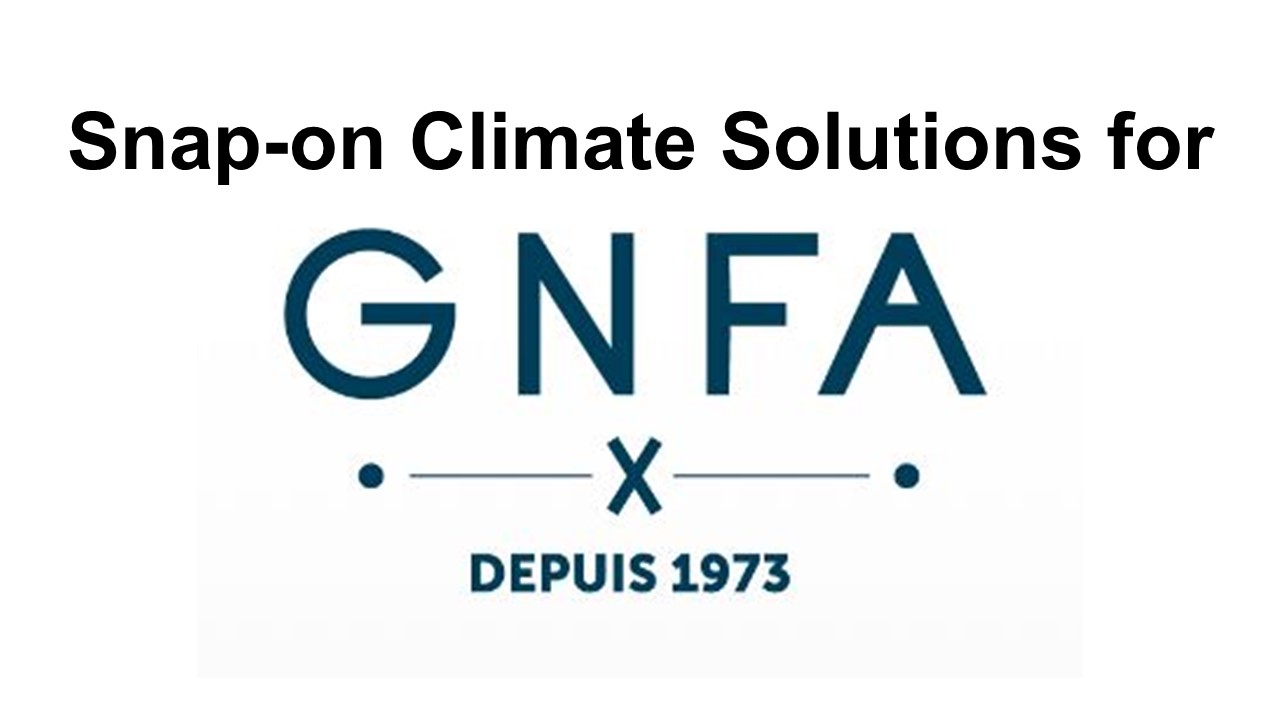 We're very pleased to inform GNFA has chosen our A/C Service Stations.
GNFA is a public institute and main point of reference in France for professional education and continuous training according to technical specifications required by main car manufacturers.
In 21 Training Centres GNFA covers all main automotive sectors from maintenance, repair, body repair, aftersales, IT and management.
The choice of our A/C Service Stations for the equipment of the Training Centres represents a precious recognition of our competences we're proud to share with you.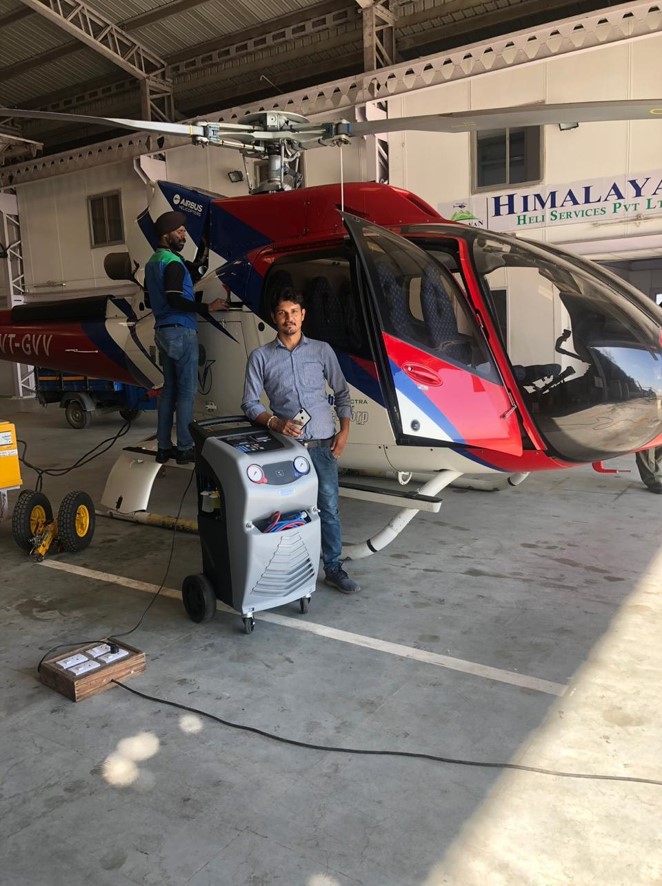 Helicopter Maintenance
RK Associates Jammu Resellers of the Snap-on Asia Pacific Division, installed Ecotechnics ECK 1890 for R134a refrigerant for Himalayan Heli Services PVT LTD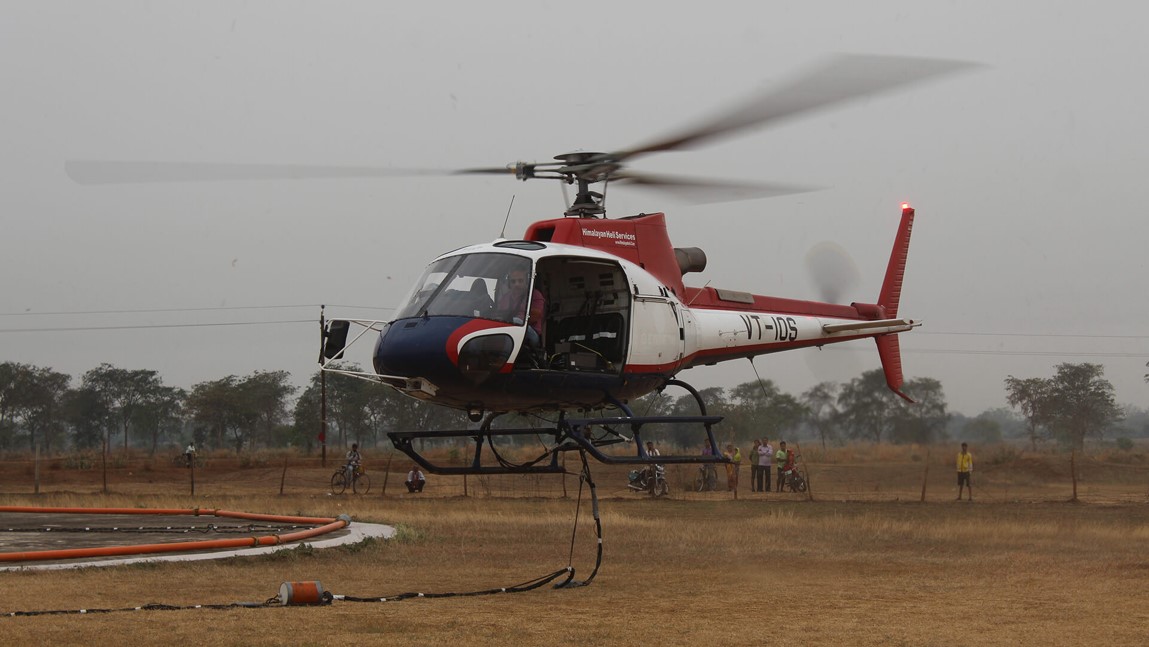 Further to automotive sector, Ecotechnics catches attractive business opportunities in aviation, too. Of course, systems in big airplanes have to manage temperature, pressure and oxygen and are completely different, but smaller flying vehicles as helicopters or small airplanes use similar systems as used in the automotive industry.
Himalayan Heli Services selected in Ecotechnics A/C Stations most adequate solution for the maintenance service on their Helicopter fleet.
The maintenance organisation under DGCA – Directorate General of Civil Aviation operates in three separate maintenance bases in New Delhi Airport, Katra (Jammu & Kashmir) and Shahpura (Rajasthan).
ECK LAND – The mobile companion on the road. Now for HFO, too.
We're pleased to inform about the new product ECK LAND HFO.
Main distinctive characteristic of ECK LAND is its mobility due to easy transport. ECK LAND represents therefore a solution not only for agriculture utilisation, but for any possible situation "mobile" service is required as any outdoor service, off-road or "home delivery" service of the workshop.
The share of vehicles with HFO system is growing and ECK Land HFO represents a new solution for new workshop needs. Further, a positive and environmentally friendly information from agricultures world: the first agriculture vehicle is on the market.
To download the product brochure, please click on the left download-button.
Automechanika Dubai, UAE 2019 June 10 – 12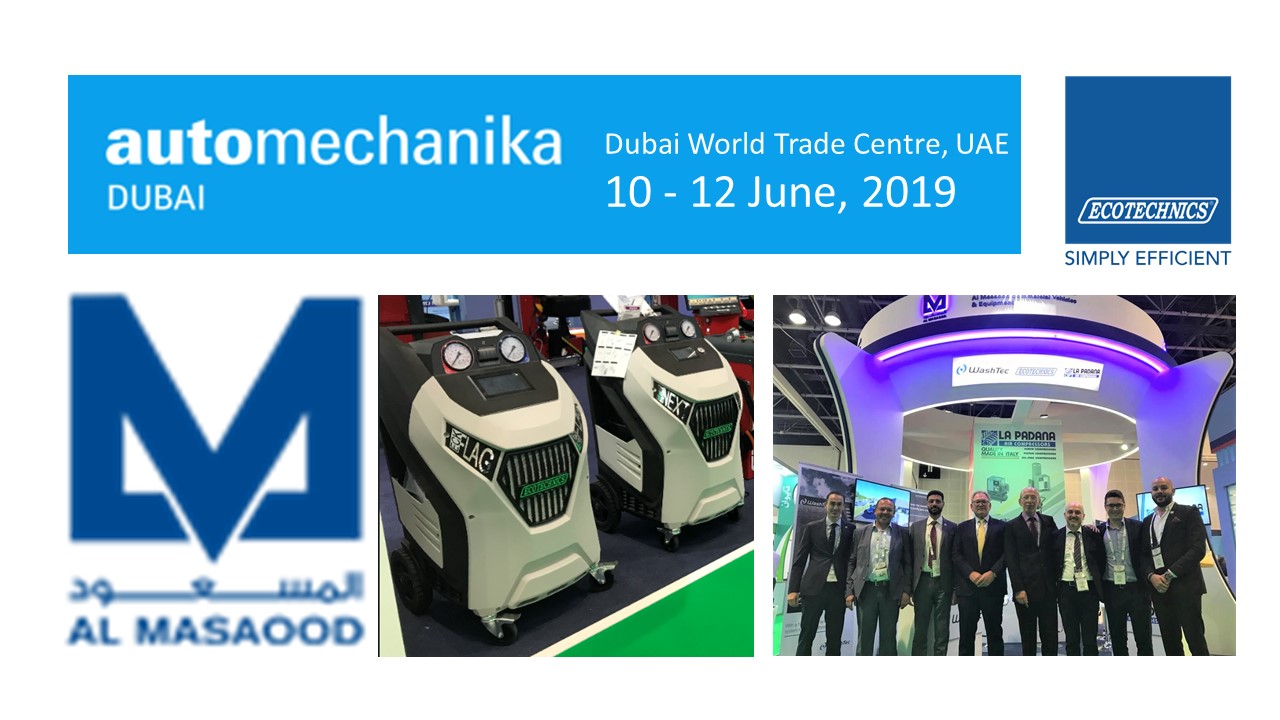 We're proud to inform about successful participation of Ecotechnics brand with our Partner Al Masaood Commercial Vehicles & Equipment.
3 days to meet, network, source, trade and so much more.
As the largest international automotive aftermarket trade show in the Middle East, Automechanika Dubai acts as the central trading link for markets that are difficult to reach connecting the wider Middle East, Africa, Asia and key CIS countries.
Al Masaood focussed exposition on new Ecotechnics A/C Stations ECK Next and ECK Flag and their future-oriented features. In Dubai the issues of major interest have been confirmed in Analysis of refrigerants, the WIFI connectivity and the Hybrid function for the growing share of vehicles with electrical driven A/C-compressors.
A special thanks to our Partner Al Masaood!
AUTOPROMOTEC, BOLOGNA, 2019 MAY 22 – 26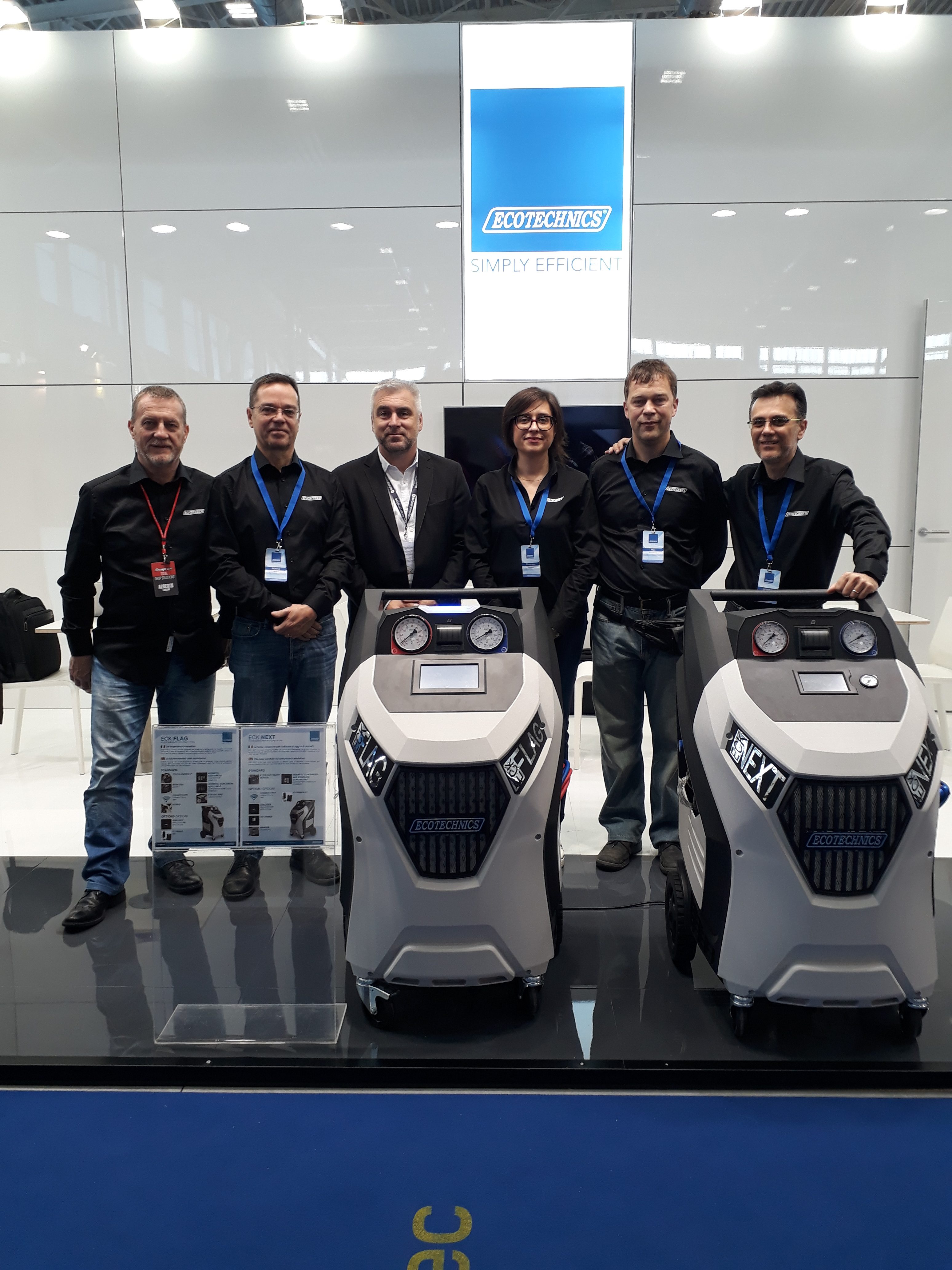 Thanks for visiting
The Bologna fair has just ended, bringing together the vehicle assistance sector for over 50 years. Five days of the event, in the Bologna Exhibition Center, during which the professionals of the entire supply chain can admire the best for automotive maintenance and repair.
The participation of Ecotechnics brand was a great success and we are proud of the results obtained. It was a pleasure for the company to talk in person with many passionate professionals and to note the lively interest of current and new business partners, workshops and the international press during the press conference.
The focus of attention and main player of the exhibition were the new A/C stations ECK Next and ECK Flag. The issues that most attracted interest are in line with the most current market trends that look to the future: Ecotechnics solutions to manage the risk of refrigerant contamination (Analysis and Identification), WIFI connectivity and the Hybrid aftermarket option of the new A/C station ECK Next.
Many thanks to all visitors.
EXPOMECÂNICA, PORTO 2019 APRIL 17 – 19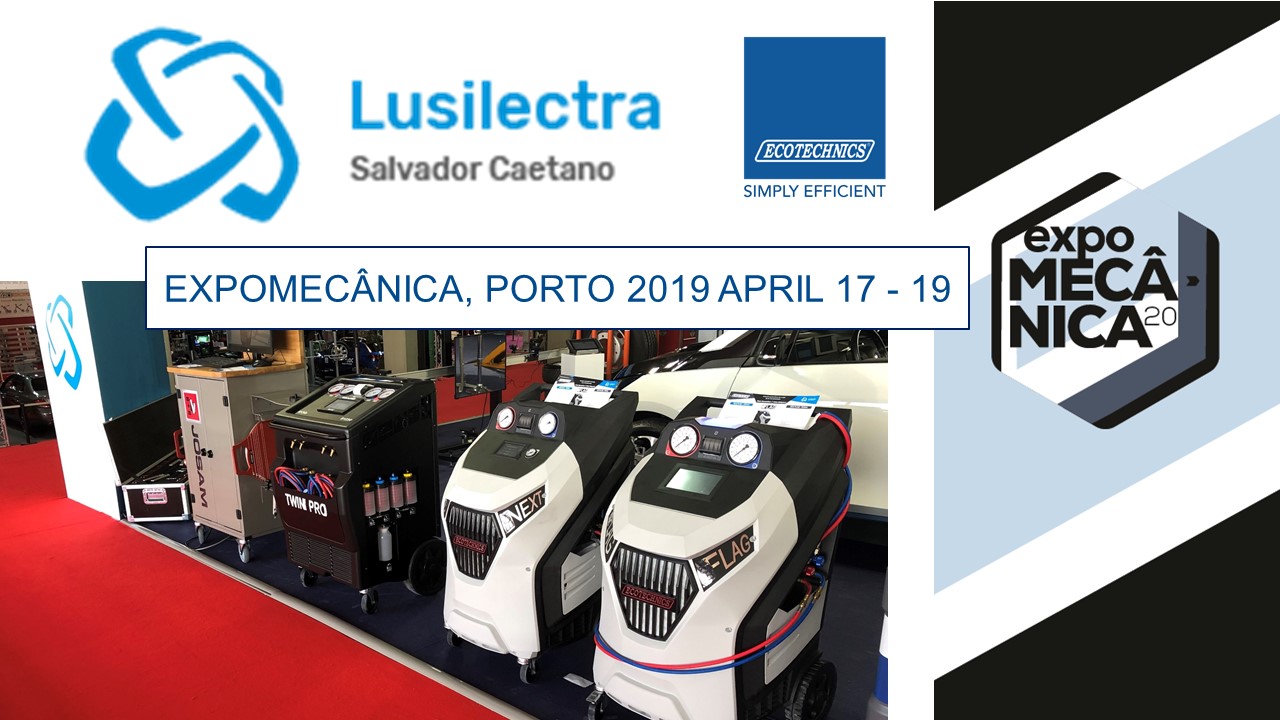 We're proud to inform about successful participation of Ecotechnics brand with our Partner LUSILECTRA on EXPOMECÂNICA, PORTO.
From April 17 to 19, the automotive aftermarket presents at EXPOMECÂNICA – Porto International Fair, innovations and solutions in various areas such as parts and systems, accessories, repair and maintenance, IT and service stations management.
LUSILECTRA focussed exposition on new Ecotechnics A/C Stations ECK Next and ECK Flag and their future-oriented features. In Porto the issues of major interest have been confirmed in Analysis of refrigerants, the WIFI connectivity and the Hybrid function for the growing share of vehicles with electrical driven A/C-compressors.
A special thanks to our Partner LUSILECTRA!
AUTOMEC, São Paulo Expo – SP, 2019 April 23 – 27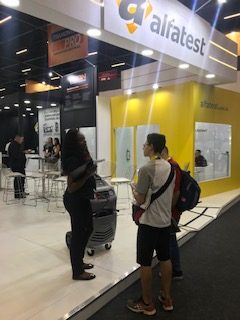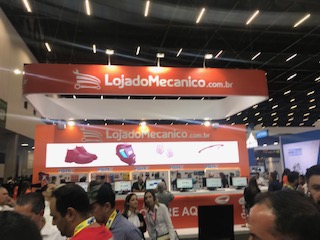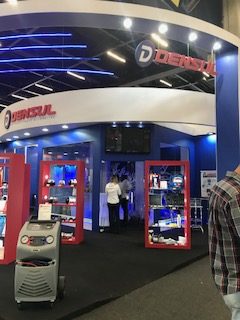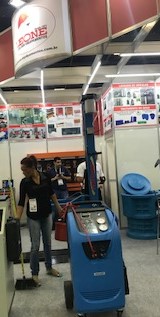 We're proud to inform about successful participation of Ecotechnics on Automec São Paulo, 14th INTERNATIONAL CAR PARTS, EQUIPMENT AND SERVICE FAIR.
Automec is the leading event in Latin America for the Replacement and Repair sectors for light, heavy and commercial vehicles. It is the ideal opportunity for you, in one place and at the same time, to know the launches of the main world brands, to test the most modern equipment, services and solutions and to update with the latest trends and technical information of the market.
A special thanks to all our colleagues of Snap-on and Partners who presented our products Alfatest, Densul – refrigeração automotive, LEONE – A Casa dos Equipamentos and LojadoMecanico.
Distributor Meeting, Florence – Arezzo, 2019 March 1 – 2
Video Distributor Meeting 2019
The last Distributor Meeting in Tuscany has been a very special occasion: the new product range of A/C stations has been presented to Ecotechnics' European Partners.
A fantastic "kick-off" meeting to start the introduction of the project ECK Flag and ECK Next. A new catalogue and renewed communication tools support this further chapter in Ecotechnics brand development. The beautiful area of Arezzo and Florence gave highly appreciated environment for professional relationship and personal conviviality.
A special thanks to all our Partners and to our friend Christian from Christonik, Denmark for the highly positive comments sent to us, among which " … I must honestly admit that I am quite impressed with the result … all our requirements for an automatic A/C machine have been fulfilled and I am really looking forward to presenting them on the Danish market … "
EQUIP AUTO ALGERIA, 2019 March 11 – 14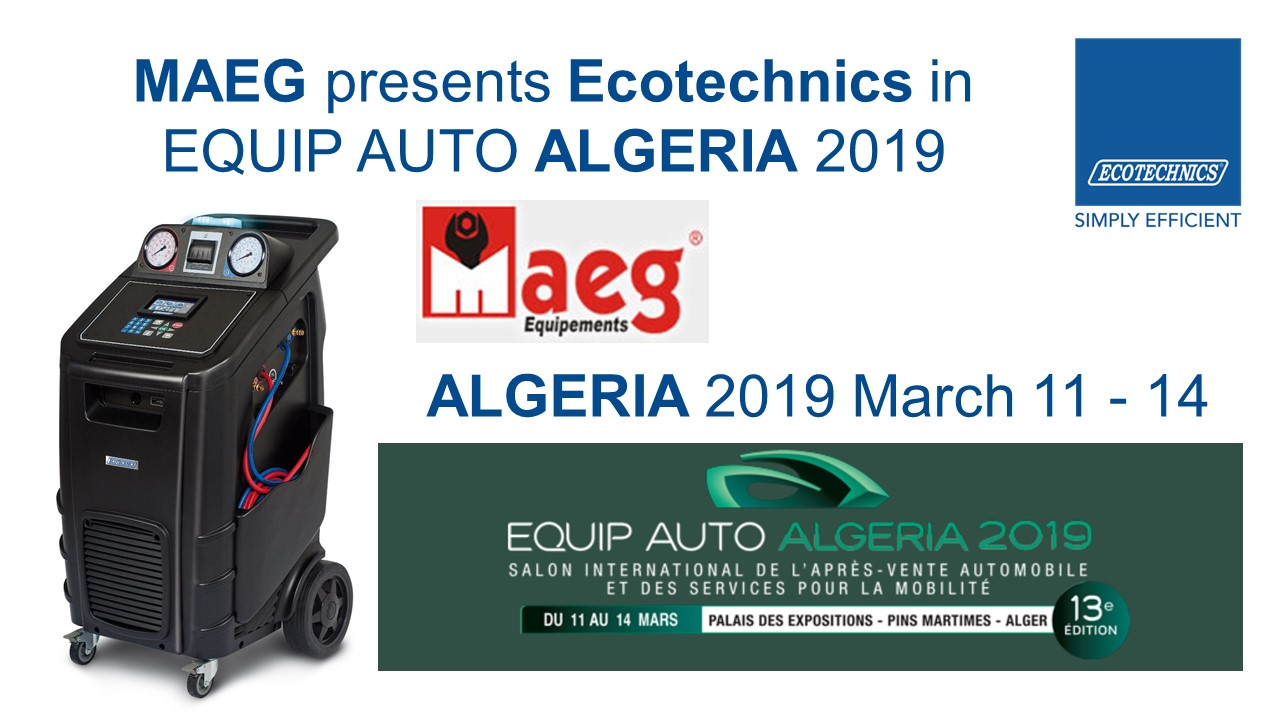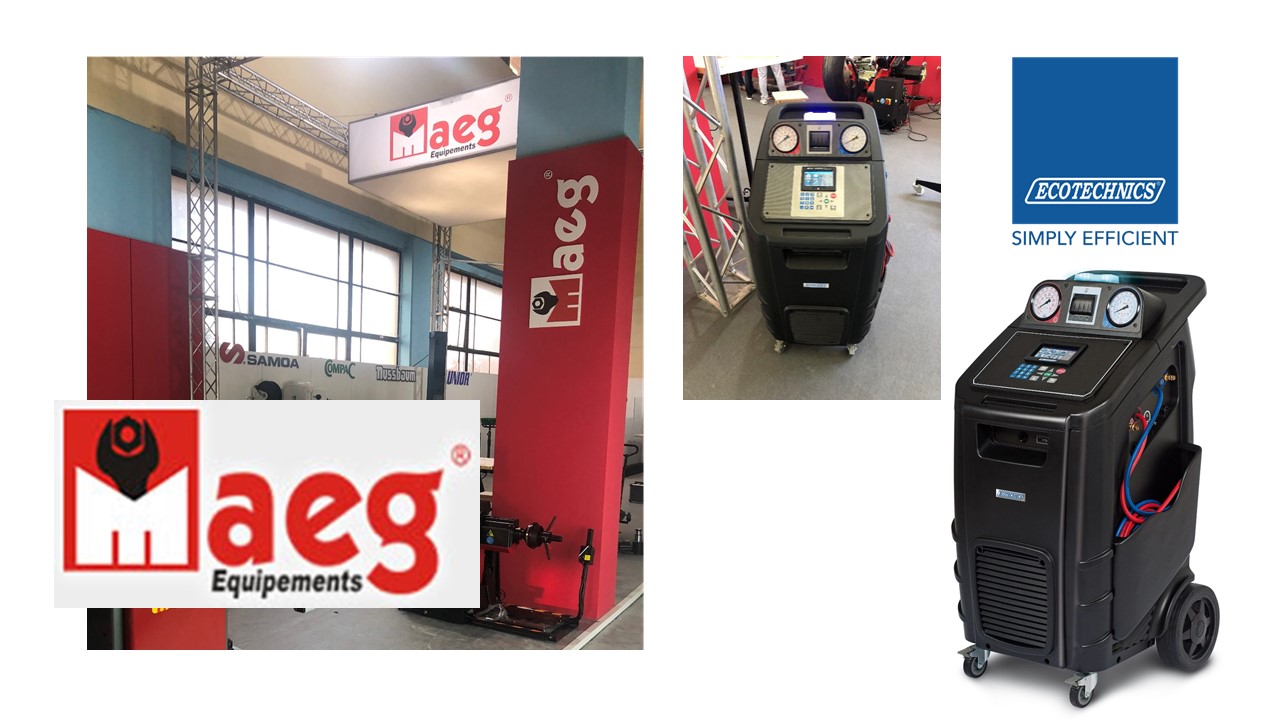 Organized since 2006 by Promosalons Algeria, EQUIP AUTO ALGERIA has become along the 13 editions an essential appointment for operators in the automotive Aftermarket sector.
This annual meeting of the automotive aftermarket world is held at the Pavillon Central of the Palais des Expositions des Pins Maritimes. During 4 days, it brings together over 300 exhibitors in 10,000 square meters. 80% of exhibitors are international.
EQUIP AUTO ALGERIA is the only international professional fair of the automotive aftermarket in Algeria and is undoubtedly the privileged meeting place for producers, distributors and workshops who are looking for new products, services and partners.
Special thanks to our Partner MAEG for the successful presentation of the Ecotechnics brand.
Geneva International Motor Show, 2019 March 5 – 15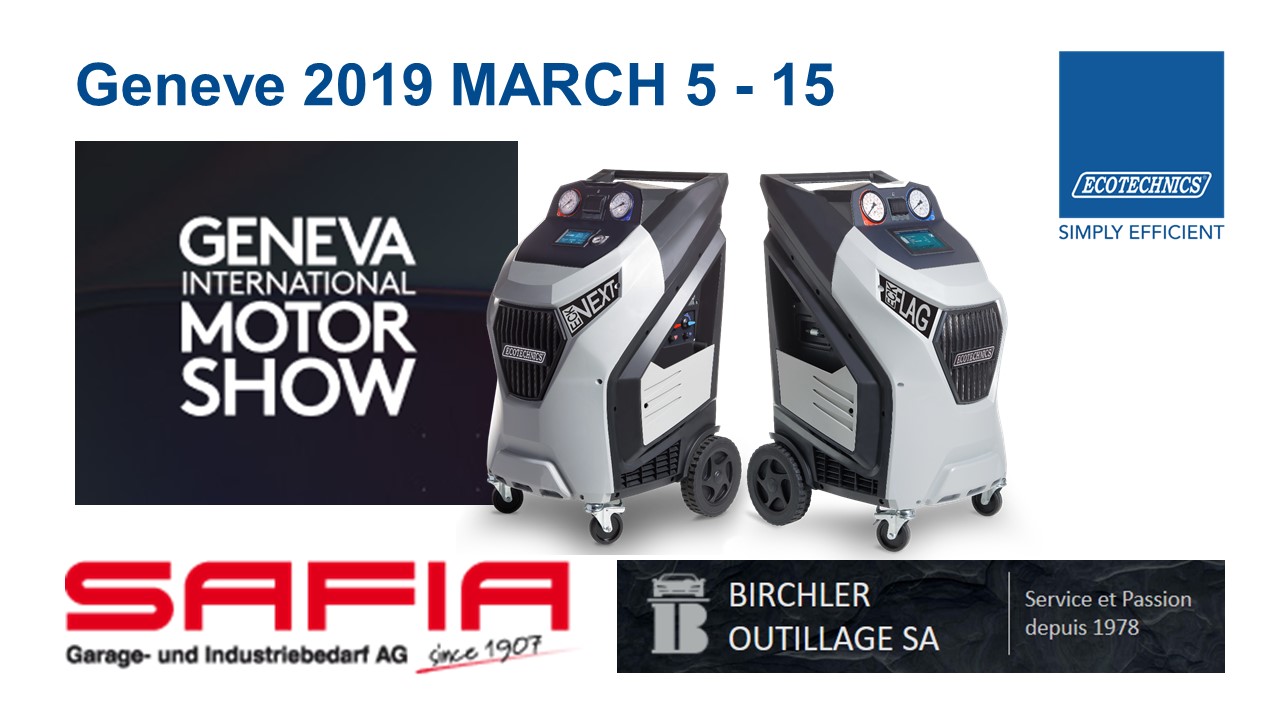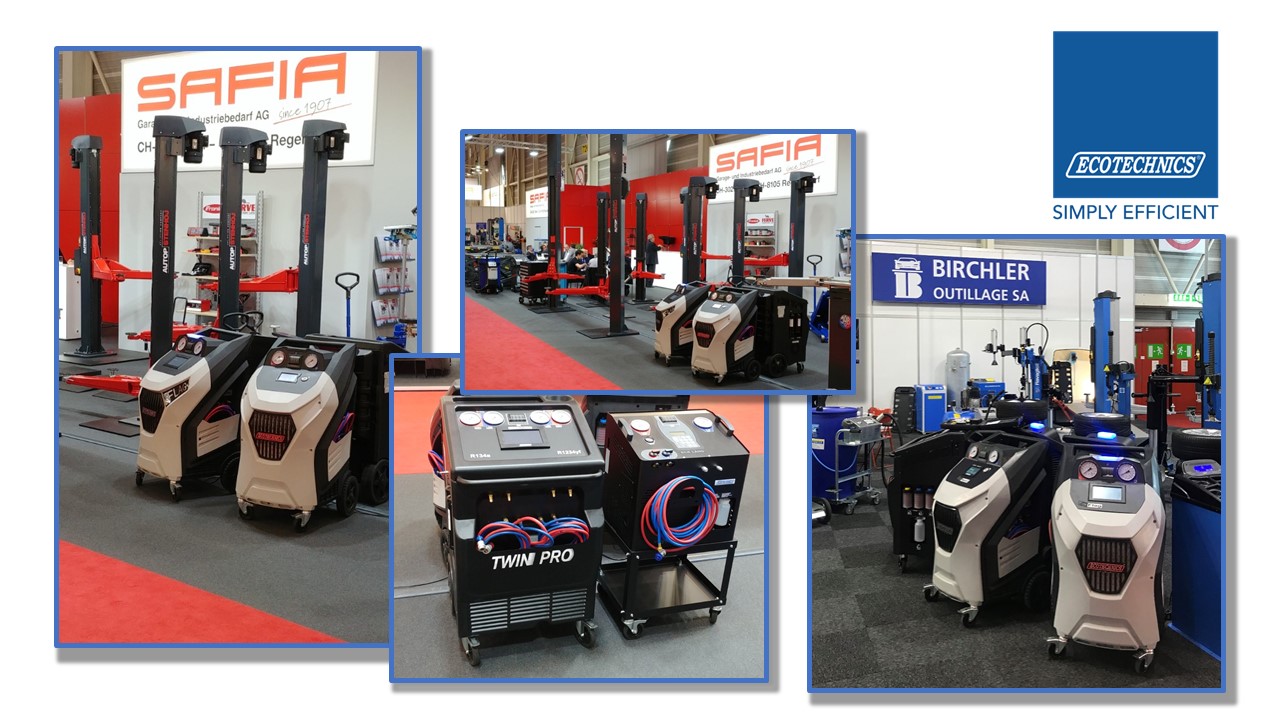 We're proud to inform about successful participation of Ecotechnics brand on The Geneva International Motor Show.
The Geneva International Motor Show (French: Salon international de l'automobile) is an annual auto show held in March in the Swiss city of Geneva.
First held in 1905, the Salon has hosted almost all major internal combustion engined models in the history of the automobile, along with benzene- and steam-powered cars from the beginning of the century.
Today the fair became international point of reference also for special bodywork, design, OEM and workshop equipment.
Special thanks to our Suisse Partners Safia AG and Birchler SA!
MOTORTEC AUTOMECHANIKA MADRID, 2019 March 13 – 16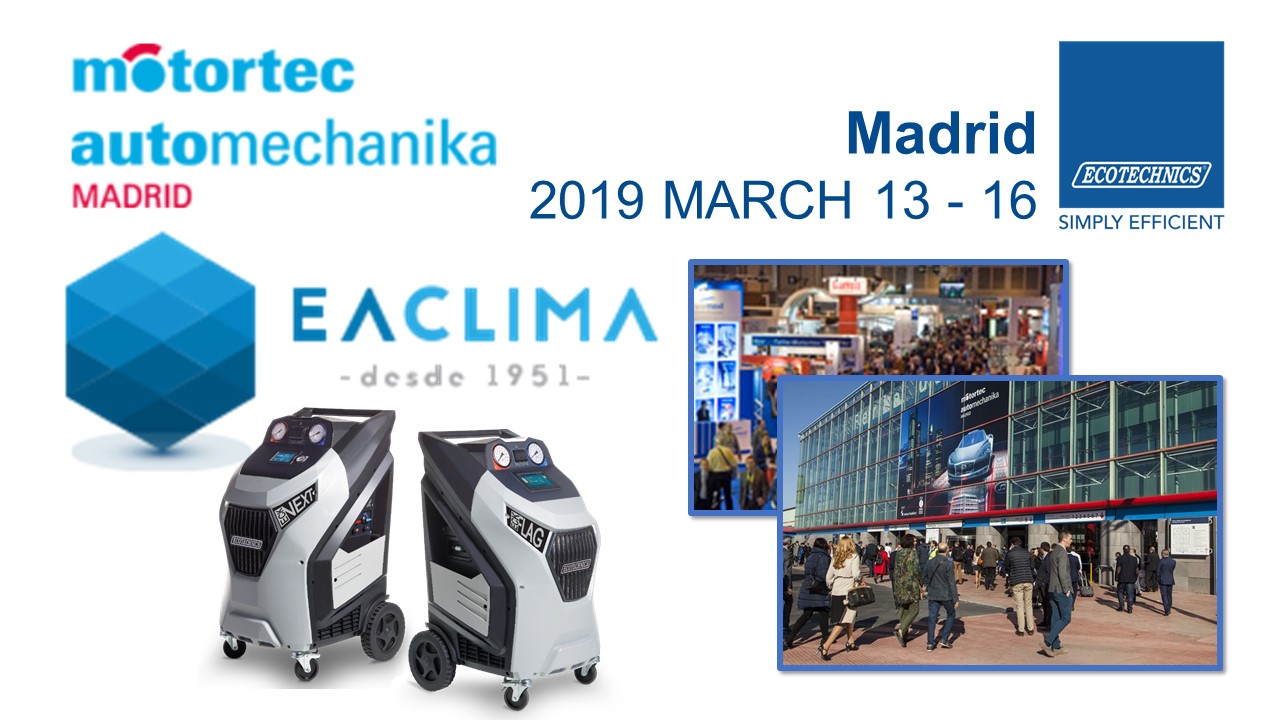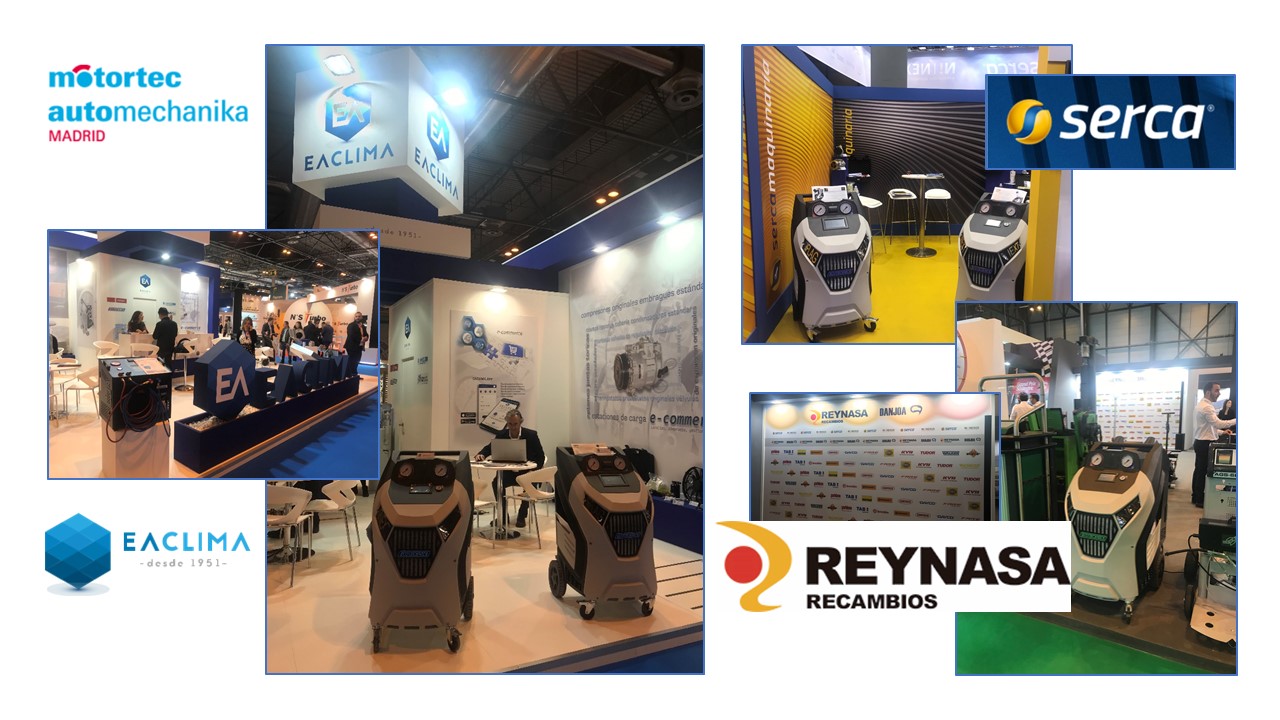 We're proud to inform about successful participation of Ecotechnics brand on MOTORTEC AUTOMECHANIKA MADRID.
MOTORTEC AUTOMECHANIKA MADRID is Spain's Leading International Trade Fair for the Automotive Industry targeting, especially, Trade Visitors from the Iberian Peninsula, Latin America and North Africa
The fair, organized by IFEMA International, came to it's 15th biennial edition and has increased its exhibition space by 7% to over 40 thousand m².
Workshop's equipment is among most meaningful product groups. Further are presented Parts & Components, Electronics & Systems, Accessories & Customizing, Repair & Maintenance, Management & Digital Solutions, Car Care & Reconditioning,
A special thanks to EACLIMA who presented the Ecotechnics machines also on the booths of REYNASA and SERCA.
AutoZum Salzburg Salzburg, 2019 January 20. – 23.
We're proud to inform about successful participation of Ecotechnics brand with Autobedarf Kastner on AutoZum in Salzburg.
Once every two years the AutoZum presents a unique range of products from automobile parts, workshop, garage and fuel station facilities, car washing technology, to accessories and tuning goods; and provides perfect conditions for setting up business deals, cultivating contacts and networking. For over 40 years this show has served markets far beyond the borders of Austria. It is the leading trade fair for automotive products and the most important commercial gathering for the automotive after sales industry. Salzburg is the ideal location, and the expo centre is the perfect venue due to its ultra-modern trade fair complex and central position at the hub of the central European road, rail and aviation network.
A special thanks to our Partner Autobedarf Kastner!
Autoprof
Evenementenhal Gorinchem, Netherlands, 2019 February 12 – 14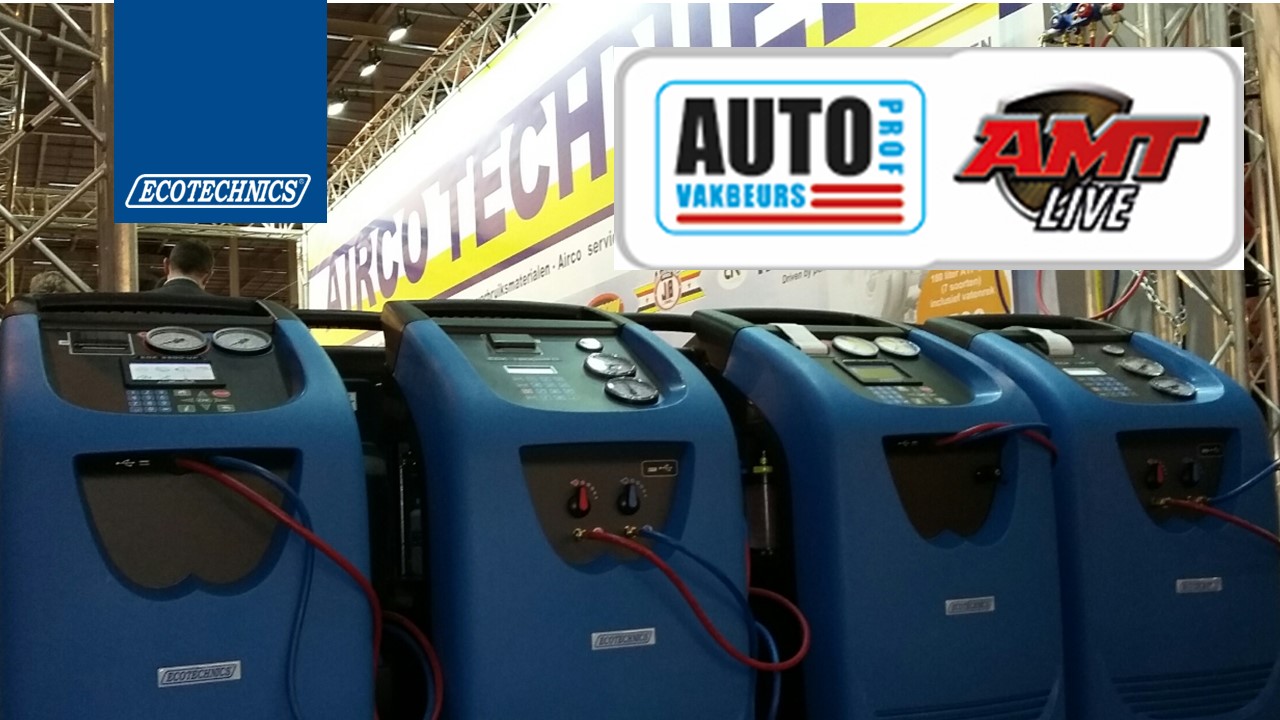 We're proud to inform about successful participation of Ecotechnics brand with Airco Techniek Groningen on Autoprof 2019 in the Netherlands.
Auto Prof – AMT Live is a professional know-how event that connects automotive professionals such as automotive engineers, managers and workshops. Professionals from all segments of the automotive and repair industry present themselves, shake hands with relationships and learn everything about current issues in automotive technology, workshop management, maintenance and equipment.
A special thanks to our Partner Aircon Techniek Groningen!
Autotech CICC, Cairo, 2018 December 14th – 16th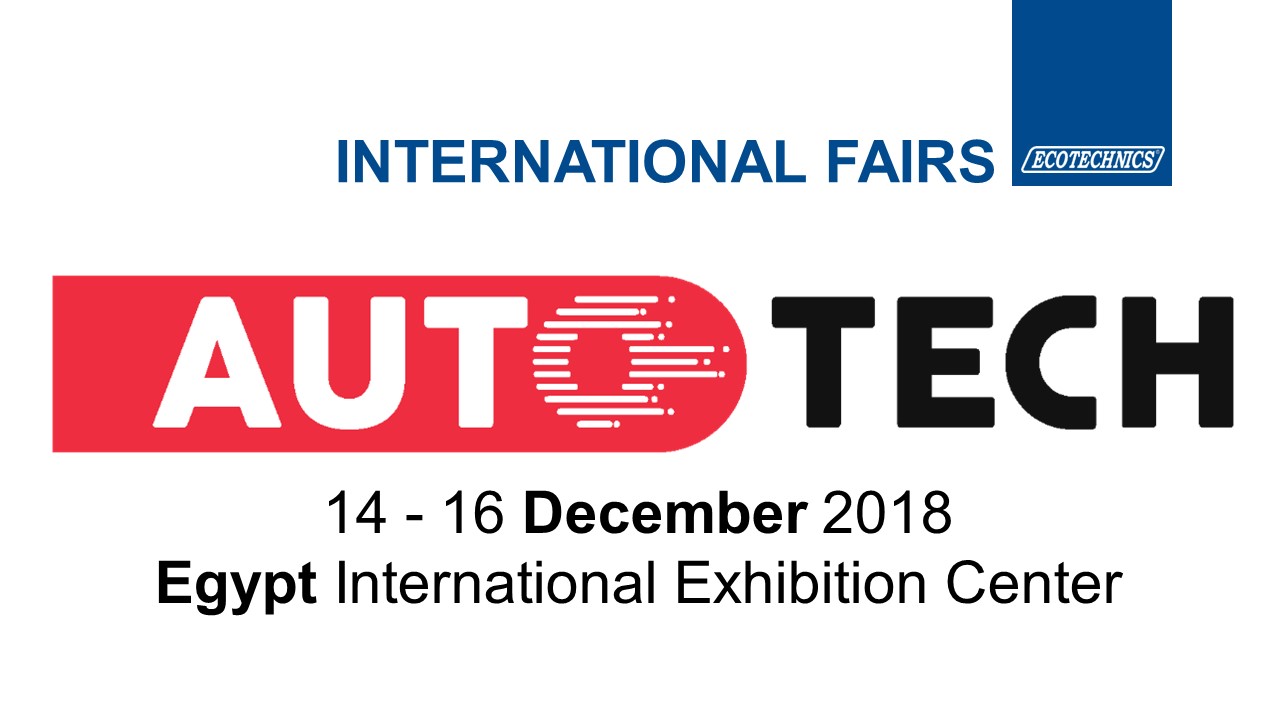 We're proud to inform about successful participation of Ecotechnics brand with El Bassiouni for Equipment on Autotech 2018 in Egypt.
Autotech 2018 is the largest and most comprehensive trade show for the auto aftermarket industry and is the platform to meet top decision makers specialised in automobile spare parts, accessories, motorcar workshops, service station equipment and feeding industries from Egypt and Africa.
A special thanks to our Partner El Bassiouni!
"The Meyer Foundation, for a child-friendly hospital"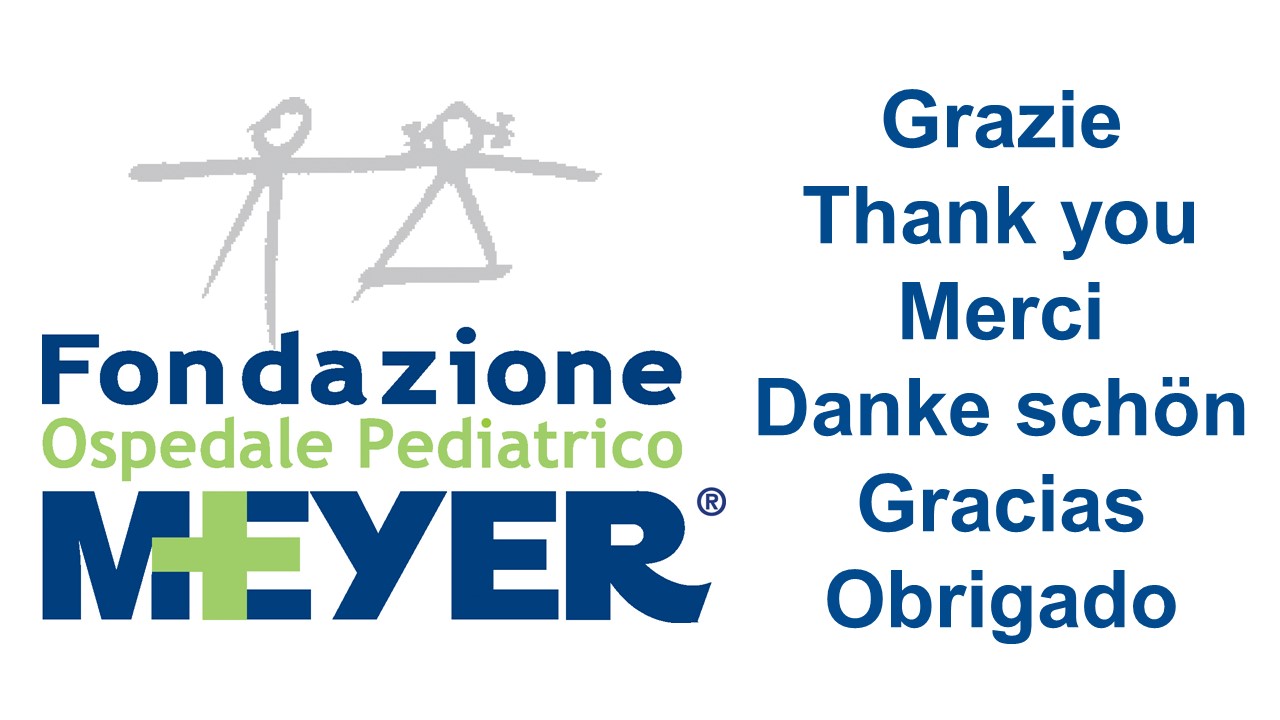 Our care, health and well-being are our goals.
The Meyer Foundation thanks
SNAP-ON CLIMATE SOLUTIONS S.r.l.
for the donation on the occasion of Christmas 2018 with which you have contributed to support more care and more hospitality for the Meyer Pediatric Hospital of Florence, which is going through a moment of great expansion of the care lines.
The role of companies that, like yours, are sensitive to our cause is fundamental in order to continue to win the most difficult challenges together.
We are pleased to inform you that Snap-on Climate Solutions obtained the EGEA Quality Certification for the machine ECK4000 working with refrigerant HFO1234yf
The objective of Egea (European Garage Equipment Association):
Support the automotive industry
Achieve a high level of quality for products and test procedures
Uphold stringent safety rules
Create common rules in the design, manufacturing, installation, servicing and operation of garage and test equipment
CLAAS OFFICIAL RECOMMENDATION ECKLAND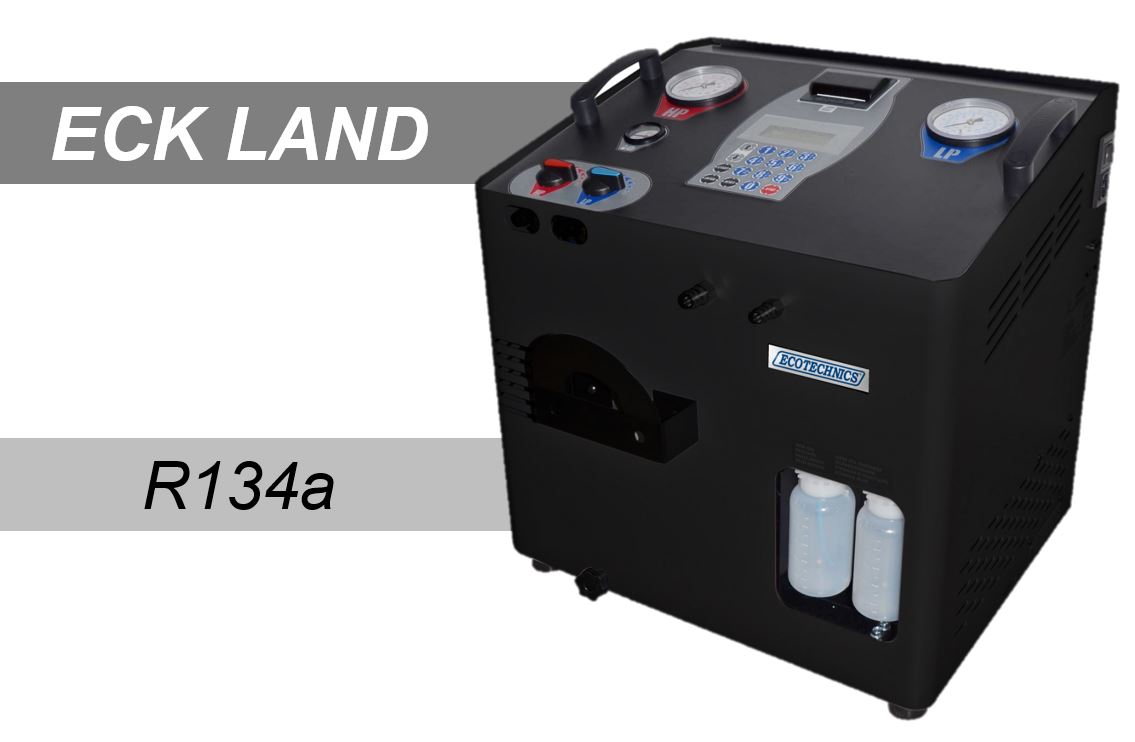 Snap-On Climate Solutions is glad to inform you that CLAAS, one of the most agriculture vehicle providers in the world, recommends the air conditioning unit made by Ecotechnics, ECK LAND, for the distribution into own French dealership network.
Recommended for recharging and maintenance's operations on agricultural and earth moving vehicles A/C systems, this machine is the synthesis of Ecotechnics technology and competence.
OPEL / VAUXHALL OFFICIAL RECOMMENDATION ECK4000 OV
Snap-On Climate Solutions is glad to inform you that Opel/Vauxhall recommends our A/C unit ECK4000 OV for the distribution in the Opel/Vauxhall network.
ECK4000 OV approval n. WE170005A
Recommended for recharging and maintenance's operations on A/C systems with refrigerant HFO1234yf, this machine is the synthesis of Snap-On Climate Solutions technology and competence.
Opel/Vauxhall has already informed all their Branches, Dealers and Authorized Workshops about this official recommendation.
Snap-On Climate Solutions is engaged to supply the machines to theOpel/Vauxhall Branches and to Dealerships/Authorized Workshops.